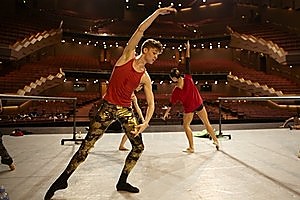 The biggest fallacy about ballet dancers is not that the guys are all gay, reckons Jaered Glavin. It's that dancing on your tippy toes and leaping around the stage like a tight-wearing Richie McCaw, is not a real job.
"I find when I tell people what I do they say, 'Oh, so what do you do for your real job?'," he says sounding half amused and half peeved. "I've trained eight years to do this - it's like being a doctor or a lawyer, or something like that. This is my real job, and I do get paid for doing it six days a week," laughs Glavin, who has been with the Royal New Zealand Ballet for two years.
Although, the ballet company's flamboyant and brutally honest artistic director, Gary Harris, might disagree. He blurts out early on during TV3's new reality show The Secret Lives of Dancers (8pm, Tuesdays) that the main misconception about ballet dancers is, indeed, that "the girls are all anorexic, and the boys are all gay".
Harris is prone to outrageous declarations like this - making him top TV talent.
He's a hoot. He also pipes up with the gem, "Dancers all shag each other - they do!"
And it has to be said, he could be right. Because as well as giving an insight into the training, skill, and rigours of being a professional ballet dancer, the show also reveals the romance and bed-hopping that goes on when the curtain closes. Talk about beyond the tights and tutus.
A primetime reality ballet show is a bold move for TV3 considering this type of seemingly arty programme traditionally used to turn up on Sunday night on TV One.
But what makes Secret Lives primetime-friendly is the combination of insight into the art of ballet, the candid look into the dancer's lives (from the dressing room to their living rooms), and then there's the juicy, often scandalous, stuff.
It's a little bit bitchy, a touch mean, and up front and honest like NZ's Next Top Model meets Fame, with a little bit of soap opera thrown in.
But most unique of all, it's a reality show about people who have true talent as opposed to wannabes.
Sue Woodfield, TV3's head of factual programming, says ballet is often perceived as a high-brow art-form but as Secret Lives shows, it is anything but.
"The dancers are warm, funny and not at all stuffy or pretentious and they are incredibly open about their lives. And it shows the harsh reality of being a professional dancer - from the transient lifestyle, career threatening injuries, and professional jealousies through to the joy of dancing."
And Woodfield says Secret Lives fits well into the mix of shows on the channel following the success of performance-based series like Glee and Top Model.
"It's got scary auditions, fantastic characters, the bitchiness of a close group of people working together under extreme pressure, lots of gorgeous bodies and incredible performances."
Director and producer Natalie Malcon says from the moment she walked into the RNZB's studios in Wellington she knew it would make a great series.

"For a start there were gorgeous young things doing amazing things with their bodies, but it was when I started chatting to them that I realised we had a winner."
Malcon says she was able to play on the fact dancers are natural performers ("so they came alive on camera") and that they are passionate people. "So right from day one they gave me real honesty," she says.
Along with Glavin, one of the company's up and coming dancers, we also meet newbies, Australian talent Lucy Green and young Chinese dancer Yang Liu; there's skateboarding roughneck Jacob Chown; and local ballerinas Lucy Balfour and Katie Hurst-Saxton.
It's top dancers Hurst-Saxton and Michael Braun - the pair played Peter and Wendy in last year's Peter Pan production - who provide much of the scandal in the first few episodes, despite one of them being heavily committed elsewhere.
"A bit of scandal is always fun," says Hurst-Saxton on the show.
From Glavin's point of view, he puts getting it on off-stage down to being intimate on it.
"I guess it's that whole closeness thing again. Everybody is constantly touching each other because they're dancing together, we're always on tour, and I guess it just kind of happens that way," he says.
However, ballet mistress Turid Revfeim, who describes herself and ballet master Greg Horsman as the two coaches, down plays the romantic spark between dancers. She believes it's like any other work place and the "three or four relationships" in the company of 40 people is nothing unusual.
Although, she points out with a laugh, she married a dancer and romances do happen. "Living together you do get to know each other really well, and we're on a bus together, and hotelling together, so if something is going to spark off then it's far more likely to happen."
So what does she make of the misconceptions about ballet dancers?
"I think many of those will be totally blown away by the show," she laughs. "Some things will be proved right as well, but we have no anorexia, we have a few gay guys, but we have lots of straight guys, and that's what's so good about this reality show, it's a great cross section of society and a group of people who do something together that they love passionately."
Revfeim says there was very little that was off limits to the film crew, who spent six weeks filming auditions and rehearsals in Wellington before hitting the road with the ballet on a nationwide tour.
"The only thing that was off limits was them being on stage, and we had the odd occasion where we had to pull them out of the wings because they would have been seen by the audience," she says.
The show is also in keeping with the ballet's keenness to expand its audience and explore how ballet and popular culture can mix - something Glavin, a Briton, who, as a kid, his grandmother claimed would "either end up in jail or on stage", is all for.
He was behind the choreography of a Lady Gaga tribute that became a minor YouTube phenomenon earlier this year, and believes the TV show is a great way to raise ballet's profile.
"There have been other shows, like Dancing With the Stars, but it doesn't really go into the lives of the dancers themselves. And I just think it will be good for people to understand what we really do."
Lowdown
What: The Secret Lives of Dancers, an access-all-areas pass inside the Royal New Zealand Ballet.
When: TV3, 8pm, Tuesday
-TimeOut