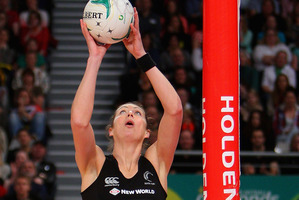 Irene van Dyk is challenging what we all thought we knew about athletes and age.
At an age when convention tells us she should be watching the Constellation Cup series at home in her snuggle sack with a cup of camomile in hand, she is still tearing it up in the Silver Ferns' goal circle.
On the back of her best ANZ Championship season yet, 40-year-old van Dyk was one of the stars of the Ferns' opening test win against Australia.
What stood out about her performance, other than her unrivalled shooting stats, was the variety in her play. Over the past few years van Dyk has continually added new little tricks to outsmart the opposition.
Now in her fifth decade, she is in the form of her life.
Her exploits this season have exposed the fallacy that you can't teach an old dog new tricks.
Had it been up to the public, she would have been put out to pasture about six years ago.
At the first sign the opposition had her figured, it was widely proclaimed the 1.90m shooter was past it.
We seem to have a very constrictive attitude to age.
There are plenty of examples of stars who have defied chronology to remain at the top of their respective sports in their advancing years - Michael Jordan, Sir Steve Redgrave, Martina Navratilova and, closer to home, Julie Seymour, Brad Thorn and Steve Price.
Yet still, once athletes reach their 30s they're seen as over the hill.
Australian coach Lisa Alexander was heavily criticised across the Tasman for recalling 30-year-old Bianca Chatfield to her side this year.
It's true that given the stresses professional athletes put on their bodies these days, particularly in contact sports, sometimes knees and ankles and shoulders give out well before their enthusiasm does.
But there needn't be a prescribed shelf-life for our sports stars.
Greyling's two-week ban
Rugby bosses tell us they are serious about player welfare.
So why has South African prop Dean Greyling copped only a two-week ban for deliberately bashing Richie McCaw on the swede?
Fuelled by some tragic cases in the US of former NFL players suffering neurological disorders, the long-term effect of concussion has become a buzz topic in world sport.
But rugby bosses are quick to point out that their game is much safer than American football.
After all, attacks to the head have been banned ever since William Webb Ellis picked up the ball and ran with it, whereas they were outlawed in the NFL only in 2010.
Yet the sanctions imposed on Greyling for his cheap shot on McCaw do little to discourage such actions.
If rugby is to continue to claim it is the world leader in proactively managing the risks of head injuries, then it needs to show us it's serious by imposing stricter sanctions against players who deliberately make contact with the head.