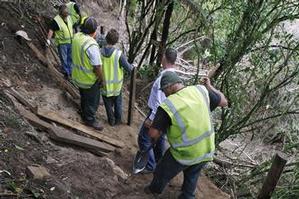 The national cycleway project, which the Prime Minister lauded as a huge job-creator at last year's national jobs summit, has created 70 in a year.
But John Key said yesterday the project should be judged on the long-term employment it will stimulate.
"I'm confident we'll have 500 jobs on these schemes and I am confident 2000km will be completed by the end of 2011," he said yesterday, after the Herald reported that construction had yet to begin on three out of seven "quick-start" cycle trails he announced last winter.
He remained confident the economic stimulation the cycleway would offer to communities would create work for 4000 people, as he predicted at the Job Summit in Auckland last year.
Green Party MP Kevin Hague, who is jointly sponsoring the cycleway project with Mr Key, said earlier that he had never made a point "of claiming big numbers of jobs in the construction phase".
"For me, the bigger picture has always been around the strengthening of local economies in the longer term with the creation of new business and kinds of work in places that need it - and I am sure the project is going to deliver on that."
Despite slow starts for cycleway sections proposed for the Far North and the Southland and Queensland Lakes districts, as well as serious funding uncertainty for a potential flagship trail between the Firth of Thames and Waihi, the Ministry of Tourism is about to start assessing feasibility reports for 13 more "stage two" projects.
Although most of 107km of trails completed has been on land owned by the Department of Conservation, which is providing $3.5 million for these, the ministry expects to allocate $30.9 million to projects this year from a $50 million New Zealand Cycle Trail Fund.
But supplementary revenue sources are being sought for one of the most potentially lucrative schemes, the 108km Hauraki Plains Trail, which is expected to cost $10.2 million to build, against a Government funding cap of $4 million.
A feasibility report from the Hauraki District Council estimates 36,000 to 64,000 annual users by the trail's fifth year will pump $8.7m to $16.4m of extra direct spending into the local economy, creating 120 permanent jobs.
About 4600 cyclists and pedestrians a year are using 30km of the 100km Waikato River Trail, which is due to be completed by October with a $3.4 million Government grant. Farmers along the way have started planning bed-and-breakfast businesses, and a new cafe has just opened at Arapuni.
A strong model for these schemes is the Otago Central Rail Trail, which an economic impact report in 2008 said had created high-season employment for 552 full-time and part-time workers.
Working on it
* 70 construction jobs created in a year
* 500 jobs predicted by end of next year, according to John Key
* 4000 people employed after completion, says PM