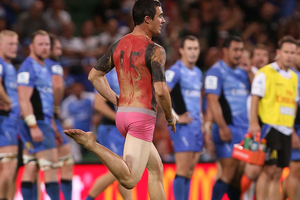 Multiple pitch invasions in the final minutes of the thrilling Western Force defeat of the Crusaders in Perth last night have been described as "unacceptable'' by Sanzar boss Greg Peters.
Peters wants answers after six men invaded the pitch in the final 10 minutes of the Force's 16-14 upset of the Crusaders watched by a crowd of 16,500 at nib Stadium.
According to a witness, one was dressed in a banana costume. Other streakers ran on to the field just as the Crusaders had won a turnover and were launching a counterattack with a five-on-two advantage with four minutes remaining.
Crusaders' second-five Ryan Crotty tackled one individual, with scrum coach and former All Blacks' prop Dave Hewett dumping another.
"From our point of view it's extremely disappointing and unacceptable behaviour from a small group of idiots in what was otherwise a very good crowd,'' Peters said.
"We've sought a report from the Western Force as the match managers. We understand there's a meeting at the stadium this afternoon to discuss the matter and provide a report for us.
"We understand there were about 90 security guards on duty and we understand these idiots were able to invade the pitch and they were taken away by the police but we're unsure what transpired after that at this stage.''
He said 90 security guards for a crowd of more than 16,000 "wouldn't seem unreasonable''. There was also a police presence at the ground, he said.
Crusaders' coach Todd Blackadder said he was extremely disappointed by the farcical nature of the crucial closing minutes.
"It was obviously a really key moment, too,'' Blackadder said of the final invasion. "We got a turnover and we would have counter-attacked and it was about five-on-one.
"It's poor - it shouldn't happen at this level. The crowd needs to be far more disciplined. It ruined a good game of footy.''
Peters added: "I can understand that the Crusaders may well feel aggrieved, as we all do, as it's not something we want to see in the game.''
The way the pitch invaders breached the perimeter fence was of particular interest to Peters.
- APNZ