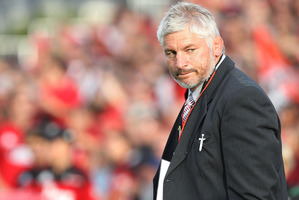 In a landscape full of respected and admired coaches, Todd Blackadder has established himself as the pick of the bunch in recent weeks.
The former All Black captain has been as methodical, thorough and honest as a coach as he always was as a player.
But he's added a new dimension since the Crusaders returned from South Africa; he's shown himself to be more tactically astute than his peers.
The influence of coaches is often grossly exaggerated but in the case of the Crusaders, there's nowhere else to turn in trying to explain why they have suddenly kicked into life and are heavily fancied to cruise past the Waratahs today.
The basic skill execution of the players has risen; a couple of key men such as Kieran Read and Israel Dagg have moved closer to top form and their defence has been impenetrable.
These factors are relevant in explaining why the Crusaders have looked a different side since beating the Stormers in mid-April.
But at the core of all these improvements has been the not so subtle and highly effective tactical revolution masterminded by Blackadder.
Super Rugby is a continuously volatile business where trends emerge quickly but quietly.
A mindset or tactical blueprint that works one year could be redundant six months later. Stand still and die, they say, and the Crusaders were a little guilty in their early games of being too reliant on the counter-attack.
It took them until the clash with the Stormers to realise that the game is easing back to being more defensively orientated and territorially-minded. Referees are no longer automatically favouring the attacking side if in doubt, as they did for most of 2010 and 2011.
At the breakdown, officials are now prowling for men leaving their feet and are particularly keen to penalise the attacking side for 'sealing off'.
The risks attached to counter-attack have increased and although the Crusaders may have been slow to get a handle on the changes, they have been quicker than any other New Zealand franchise.
The fact Blackadder got it at all is testament to his ability to pull off quality analysis and then turn that into a vastly improved game plan.
On top of that, he's also managed to communicate his vision and persuade the players to buy into it.
It was a considerable management feat to convince Dagg, Zac Guildford and Sean Maitland to kick everything back to the Stormers.
All three are naturally inclined to run and yet they held their discipline for the duration, resisting temptation and maintaining the patience to kick back.
It was a game plan obviously borne from watching the Highlanders the previous week unsuccessfully try to stretch the Stormers by keeping the ball in hand and playing with width and tempo.
"It has taken a while to understand the style of game," said Andy Ellis after the 31-24 victory. "We watched the Highlanders against the Stormers and they played a lot of footy around their half and if you make a mistake, it just kills you.
"I think in some ways, it is a little bit of a shame but we executed really well against the Stormers and I'm glad we have adapted."
There were subtle changes in the approach against the Hurricanes - there were more contestable kicks to prevent a talented back three from cutting loose.
It's the detail that makes all the difference and now in his fourth campaign as head coach, Blackadder is beginning to display serious ability to adapt and tinker with things to ensure the Crusaders stay ahead of the pack.
As the competition reaches the halfway point, the Crusaders are building momentum.
What marks them as especially dangerous is that they have cleverly kept Owen Franks on simmer with a view to bringing him to the boil in the closing stages and they also have Richie McCaw to bring into the mix.
"We have to integrate him slowly," says Blackadder of his captain. "We do not want to overextend him. He is coming back after not playing for six months."
No doubt, the Crusaders have plenty more still to come this season.