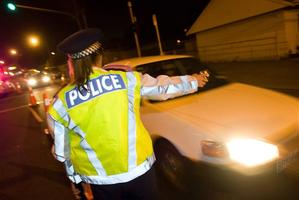 The mother of a woman killed by a drink-driver is outraged police have stopped releasing name-and-shame lists of convicted drink-drivers because of concerns about breaching their privacy.
Police in some districts had provided details of people with convictions to newspapers so they could publish details of local offenders including names, occupations and sentences.
They have stopped supplying the lists pending the outcome of a review triggered by concerns over privacy.
Police stopped providing the lists in 2009 citing privacy concerns, but Justice Minister Judith Collins stepped in and made police find a way around the concerns.
The latest move has outraged Nelson mother Judy Ashton, whose 20-year-old daughter Debbie was killed by drink-driver Jonathan Barclay in 2006.
"I'm shaking my head in wonder. We have a right to know who these people are.
If you break the law and you kill somebody, like Barclay did in our case, you cannot hide behind name suppression and the Privacy Act - the general public has the right to know who is out there that is a danger to us."
Ms Ashton said a law change was needed if the review put a permanent stop to the lists.
Students Against Driving Drunk chief executive Anna Braidwood was disappointed police had decided to stop releasing name-and-shame lists, which she said were a particularly effective deterrent to young people.
AA motoring affairs general manager Mike Noon said the association had contacted police to raise its concerns.
"The name-and-shame element of drink driving is quite an effective deterrent."
Media Freedom Committee chairman and editor-in-chief of the New Zealand Herald, Tim Murphy, said newspapers had been publishing the lists for years, for the public good.
A police spokesman said the lists had been "a useful preventative tool". "However, current concerns around privacy and the release of personal information have led to police undertaking a review of this policy and some police districts have chosen to cease the practice while the review is ongoing."
Chen Palmer privacy law expert Nicholai Anderson said police had good reason to be concerned.
While reporters were free to report on convictions in open court, police might not have a legitimate reason to release information from court records, he said.
Under the Privacy Act, police could do so only if the information was already publicly available, or if it was released for the conduct of court proceedings, neither of which applied to name-and-shame lists.
Neither Ms Collins nor acting Police Minister Chester Borrows would comment while the police review was under way.
- APNZ