Nearly 800 New Zealanders are stuck in Australian prisons as the transtasman dream seduces people on both sides of the law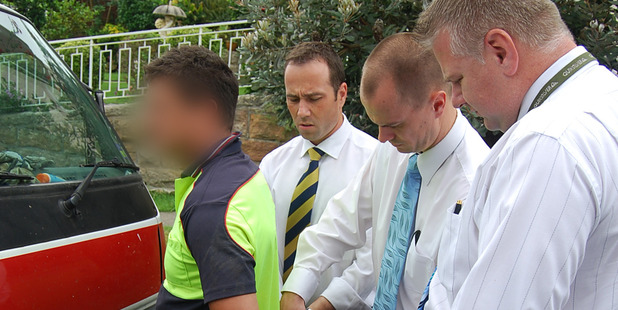 Jeremy Postlewaight said a silent prayer just before he threw a metal toolbox containing the body of a murdered gangster over the side of a launch, a few hundred metres off the Sydney coast.
The Kiwi-born criminal would later tell a court he did it "out of respect" for rival gang member Paul Elliott, but the sentencing judge was not so sure.
Postlewaight's "bond of loyalty" to his old mentor, gangland enforcer Michael Christiansen, saw him agree to help dispose of Elliott's body. That would earn him nearly seven years in prison after he became involved in one of Sydney's biggest crime syndicates in the past 20 years.
His deeds were uncovered by Strike Force Tuno, during a police investigation into underworld kingpin Anthony Perish, and the story was immortalised in last year's series of Underbelly, watched by about 1.25 million people each week in New Zealand and Australia. What Underbelly didn't reveal was that Postlewaight was a Kiwi - one of an increasing number deeply implicated in Australia's gangland.
Postlewaight's journey from Waikato schoolboy to hardened career criminal reveals a darker side to the great Australian dream that leads 1000 Kiwis a week to chase high wages and a sun-soaked life.
In the 21st century, Australia has again become a convict colony, except it's now New Zealand that is sending its criminals to the shores of the so-called Lucky Country.

There are 800 Kiwis locked up in prison in Australia, including 77 for homicide-related offences, a growing army of incarcerated Kiwi exports. A bit like Quade Cooper, we were content for Australia to have this lot.
But once they've finished their sentences, most will be deported to New Zealand, and many will arrive without any way for authorities here to monitor their whereabouts.
A significant number of New Zealanders are known to be involved in gangs and organised crime, including one of the most senior Hell's Angels in Australia. Others are patched members of Australian gangs, particularly the Rebels and the Bandidos.
The number of Kiwis in Aussie crime statistics are increasing. In the 10 years to December 2012, the number locked up in Australia has risen 29 per cent to reach just under 800, according to Australian Bureau of Statistics. Over the same period the Kiwi population increased from 400,000 to more than 600,000.
Postlewaight was born in Hamilton on April 22, 1977, to Georgieanna Hayward and Eric Postlewaight, a freezing worker. After a troubled childhood he moved to Australia as a teenager.
There, his older brother introduced him to members of Sydney's crime network, including Christiansen, whose crimes he would later help cover up.
By the age of 16, he was using cocaine and had become embroiled in the drug culture.
When he was first busted for supplying cocaine in 2006, Postlewaight was using up to 3g a day. He had only just been released from prison when Christiansen approached him in December 2008.
Christiansen had carried out the contract killing of Paul Elliott over a drug debt, and needed a boat to get rid of the body.
On the pretence of borrowing a boat for a New Year's Eve party, Postlewaight organised delivery of a launch.
With two others, they travelled past the heads of Sydney Harbour until the water was about 130m deep. A cordless drill was used to drill two holes to allow the toolbox to sink, and Postlewaight tied an anchor to it.
Commenting on Postlewaight's silent prayer, sentencing judge Justice Fullerton said: "Even if that is true, I do not consider that it carries any weight at all as evidence of remorse, or that it has any bearing at all on the issue of rehabilitation, whatever else it might reflect about this offender's conscience or his faith."
Postlewaight was a relatively minor player in the New South Wales state police's biggest investigation since the Ivan Milat backpacker murders.
But he is one of a growing number of Kiwis seduced by the glamour of the lifestyles portrayed in shows such as Underbelly.
The Australian dream: high wages, good weather, sun-soaked beach life, affordable housing. The Lucky Country lures 1000 Kiwis a week in search of a better life.
Australian critics warn that their country is creating a permanent underclass of expatriate Kiwis, whose social problems include poverty and rising crime rates.
In the past two weeks, New Zealand-born men have been linked to two of the biggest drug busts ever.
Former Wellingtonian Daniel Paul Theobald, 42, was one of three men arrested for allegedly trying to smuggle 30kg of methamphetamine into Australia in tequila bottles. Police also found $180,000 in cash and casino chips and $66,000 worth of diamonds.
And Tony Ming Ly, 21, was named as the alleged driver in the syndicate that tried to import a record 585kg of methamphetamine worth $542 million into Australia.

While some travel to Australia to embark on a criminal career, others such as expat Kiwi Kayne Hill fall in with the wrong crowd.
Hill appeared to have it all: he was a successful inventor, business owner, and committed to wildlife rescue and surf lifesaving.
But the former Aucklander became a key player in a drug operation involving a colourful cast of characters including a former Olympian and a man named the "Cookie Monster".
Hill and former Olympian Warren Richards were among 30 people arrested in December for their alleged roles in a drug syndicate that sold amphetamines, cocaine, LSD and ecstasy worth millions of dollars.
Hill helped organise the deals at his boat repair business in Sydney.
On one occasion when the undercover officer complained that there were 100 tablets missing from one of the deals, Hill texted: "I will find out what happened with the glue mate and I will give you a tingle back."
They also disguised their conversations by referring to the price and amounts of drug they allegedly sold in terms used by tradesmen.
"Let's clarify a few things, it's $14 a metre," Hill was recorded saying, allegedly referring to the price of pills.
Since leaving New Zealand as a 20-year-old, Hill had patented something called a dilating pupil mechanism. He repaired police boats, alongside inflatables and other craft owned by overseas customers.
Many of his New Zealand family members were in court to support him as he was sentenced to three years jail.
According to Canterbury University criminologist Greg Newbold, criminals are motivated by exactly the same reasons other young Kiwis move abroad.
Better prospects, bigger earning potential, richer pastures.
After unsuccessful attempts to gain a foothold in Western Australia and Queensland, the Mongrel Mob is now trying to recruit members in Melbourne's western suburbs.
The Victoria Police's Echo Taskforce is monitoring the Mob, and believe a chapter has not yet been properly established.
But New Zealand Police Assistant Commissioner Malcolm Burgess says any expansion of gangs is bad news, whether in New Zealand or Australia.
"Many gangs have family or other links in both countries and it's not unusual for these gangs to try and have a foot in both camps," he says. "We are aware that the gangs, including the Mongrel Mob, often have members and illicit dealings in both countries and we liaise regularly with our Australian counterparts on gang activity and organised crime."
The Mongrel Mob, says Newbold, is not in the same league as the feared Australian bikie gangs.
"The networks there are run by established criminals who are much heavier than the New Zealand criminals. Those Aussie gangs are pretty hardcore, and they [the Mob] might find if they step on people's toes, they'll get rubbed out.
"They wouldn't want to start muscling in on Melbourne."
Despite conservative Australian politicians linking immigration waves to rises in violent crime, the vast majority of New Zealanders who move to Australia are law-abiding.
A UK study looking at large-scale waves of immigration found no correlation with crime surges.
That report found that the arrival of asylum seekers and eastern European immigrants in the 1990s and 2000s had "no observable effect on violent crime ... nor were immigrant arrest rates different to natives'."
That will not allay the concerns of those Australians who fear a Kiwi crimewave, nor those Kiwi criminals who buy into the Australian dream.
"Ever since the Mr Asia gangs of the 70s, Australia has always been a popular destination for New Zealand gangs," says Newbold. "The potential for profits is much greater."

New Zealanders removed from Australia for bad character
• 2007/2008 - 58
• 2009/2010 - 33
• 2011/2012 - 100