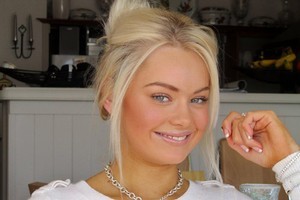 A police bug in the home of alleged killer Elliot Turner revealed he broke down to his parents after his Kiwi girlfriend was found dead, a court heard today.
Aspiring model Emily Longley, 17, was allegedly strangled by Turner, 20, in a jealous rage at his parents' home in Bournemouth, Dorset.
A jury has been told the wealthy jeweller's son was extremely possessive and attacked Emily during a drunken argument.
Today jurors heard recorded conversations between Turner and his parents Leigh and Anita, who are accused of perverting the course of justice.
The covert recordings were made between May 18 and June 14 last year, weeks after Emily was found dead in Eliot's bed.
Elliot was heard saying: "I wish now I would have just f***ed off. I would rather go into hiding for 20, 30 years than put the rest of my life in this s***.
"Nothing is worse than being bullied every f***ing day.
"I was in dire straits, mum. I remember talking to you on the phone, I was going nuts, I was on breaking point.
"A screw had basically just gone outta my brain at 10 o'clock that night, I had no conscience.
"I just flipped. I went absolutely nuts. I have never in my whole life got to that point. Just uncontrollability.
"I do not joke, I'm not a person that exaggerates. If I say I'm in trouble and say I'm going nuts I am.
"When I say I am so depressed it is, when I say I'm going f***ing crazy I am."
He added: "It's when we were arguing she punched me... I was so angry.
"I just lost it. The anger, the f***ing anger.
"I had felt this aggression for about a month. When I woke up in the morning I just feel on f***ing edge, every day.
"I never meant to harm her. I never planned it... just that argument.
"If that argument had happened two months ago it would have been fine.
"I was just building it up and bottling up the aggression. I kept trying to be calm and put on a front of being calm but I was just f***ing stressed.
"I just flipped and f***ing grabbed her as hard as I could and pushed her.
"She was going nuts, she has never gone that nuts, she was kicking me in the f***ing face.
"She knocked me out... she kicked to the face, I went straight down to the floor.
"We have had a physical argument before and she has literally fallen to the floor and I would have been like 'f***, is she gone... is she dead?'
"I did grab her quite hard but then I stopped. I realised I was causing her pain. She started crying, I told her to shut up.
"She sort of collapsed on the floor and I have seen it happen before. I didn't think much of it, I thought it's just usual.
"I woke up next to her and she was freezing."
Elliot went on: "I can't believe I got involved with a girl like that. It was dangerous from the word go. She was so manipulative and intelligent.
"She used to make me look like a c***. She always made me look like the bad guy. That girl has ruined my life.
"How the hell did I turn out this way? That Saturday morning when I flipped, that feeling sent me over the edge."
The bug also recorded Elliot's parents discussing them allegedly perverting the course of justice by destroying a letter which was a vital piece of evidence.
His father Leigh said: "He knew what he had done, he thought 'shall I phone an ambulance and see if I can save her?' But he didn't.
"He knew what he had done was so severe. He knew there was no point in phoning the ambulance."
Elliot's mother responded by saying, 'no I don't believe that'.
Then Mr Turner responds: "Yeah, but she has been dead for five of six hours. It's a terrible feeling, I want to scream, I want to run away. I want to take this weight off me."
Mr Turner adds: "What we did was we destroyed the vital evidence. That was a confession.
"I can't tell her about that letter I destroyed with bleach saying that he has killed her but he didn't mean to do it."
Mrs Turner added: "No, he did not say that. He will just say it was self-defence."
Mr Turner said: "Neet stop denying it. He f***ing strangled her."
An earlier conversation between Turner's parents revealed them talking about their son.
Mr Turner said: "He has convinced himself he is gonna be done for murder because he has done something and knows something.
"Do you think we were right to destroy that."
Mrs Turner said: "Yeah."
Mr Turner added: "Because we have perverted the course of justice, we have destroyed the vital evidence in this case.
"Morally I think we were right because we're parents, but by the law we haven't.
"You know we shouldn't have destroyed that letter."
Mrs Turner added: "Do you want to convict him?"
Mr Turner said: "It's burning me Neet."
Winchester Crown Court has heard Turner was jealous and possessive and killed student Emily during a drunken argument.
Jurors have been told Turner had become increasingly suspicious Emily had been having affairs during their four month relationship.
Emily changed her Facebook profile picture from one of them together during a three week holiday to New Zealand in April.
He then allegedly left a message on a friend's voicemail saying: "She changed it to her flirting with some other lads and made me look like a nob."
The court heard Turner later threatened to kill the blonde teenager with a lump hammer and boasted to her "I will go to prison for it and still be a millionaire when I come out."
After the murder Turner is said to have written a letter of confession but it was ruined with bleach by his father, Leigh Turner, 54, to "destroy vital evidence."
Turner was arrested following her death on May 7 last year but then released on bail.
Jurors heard a police bug of the 350,000 pounds Turner home in the affluent Queens Park area recorded the family talking about "fabricating evidence and being worried about lying to police."
The court was told that after the death, Turner's mother, Anita, 51, removed from the house a coat her son had worn on the night of Emily's death.
Police scans of computers seized from the home found Google searches for 'death by strangulation' and 'how to get out of being charged for murder.'
Officers made a series of recordings at the Turners' home between May 18 and June 14 last year.
They then arrested the three family members and charged them in July.
The court heard pathologists who examined Emily's body found injuries consistent with asphyxiation, Turner had scratches on his arm and Emily had his DNA under her fingertips.
Emily was born in Britain but her family emigrated to New Zealand when she was nine and she was raised in Auckland.
She had returned to live with her grandparents in Bournemouth, to study for a business national diploma at Brockenhurst College, Hants, and worked part-time at Top Shop in Bournemouth.
She was also signed up to a modelling agency and had appeared on the front page of a magazine in New Zealand.
Elliot Turner denies murder and perverting the course of justice. His parents both deny perverting the course of justice.
The trial continues.