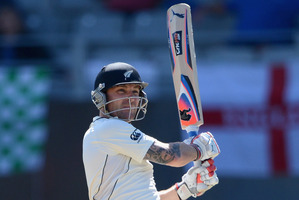 New Zealand will be two players short for the start of next month's tour of England.
They will choose from 13 for the opening match against Derbyshire on May 4.
So who'll be captain in Brendon McCullum's absence on Indian Premier League duty with the Kolkata Knight Riders?
Ross Taylor, perhaps? That's being cheeky, and in any case the former captain will be in India with the Pune Warriors.
The pair will rejoin the group for the second game against the England Lions. They might be flying out of Mumbai on the same flight. Oh, to be a fly on the first-class cabin wall for that.
There's no point bemoaning the fact that the skipper, indeed the whole tour group should step off the plane at Heathrow together. That's old hat, the sort of thinking belonging to woolly-headed fogeys, the modern players would say.
One warmup game in damp, seaming English conditions will be fine, they'll say, for tests at Lord's and green, seaming Headingley. And if it isn't, tough.
There's big lucre to be made in the IPL, which began this week with McCullum's Kolkata - minus McCullum - beating what would have been Jesse Ryder's Delhi Daredevils, by six wickets. All the lights, razzmatazz, dancing girls, booming music and that faintly ridiculous Kolkata owner prancing up a storm on a balcony high in the stands were there.
If you are new to the IPL, in its sixth season, and assume the world's best players are all there in a dazzling cavalcade of all that's good about the shortest game, think again.
Teams must carry a certain percentage of Indian players. Even some of the international acts are getting on. By his own admission, Australia's champion wicketkeeper-batsman Adam Gilchrist passed his peak eight years ago. He's 41.
He's not alone. Rahul Dravid, a true batting great, is 40 and the one-day game, let alone 20-over stuff, was never his true forte. The Indian Pensioners League, English writer Scyld Berry renamed it this week.
New Zealand are represented by Dan Vettori at the Royal Challengers Bangalore, Nathan McCullum at the new franchise the Sunrisers Hyderabad, Jacob Oram and James Franklin at Mumbai Indians; while Taylor is at his fourth franchise, the Pune Warriors.
Taylor yesterday announced he's off to the Caribbean Premier League, starting on July 29 and including six franchises. He's the third overseas player to sign up, after - you guessed it - Gilchrist, and Ponting.
Now it's up to 72 round robin games and four finals, ballooned up from its early days of what now seems a mere 56 games and finals. Nine franchises not eight, so dilution in standard is an obvious byproduct.
It's light entertainment, take it in bite-sized pieces. And turn down the volume to avoid hearing the worst sycophants going around.