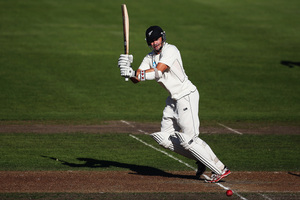 Don't give me the story that these pitches are too flat to get a result in a test.
Weather permitting, there is likely to be a result in this game and did anyone actually take the time to ponder the fact that there was a possible 93 overs lost in the Dunedin test due to rain? With England 120 in front with only four wickets remaining, had New Zealand had those overs available to them, they could have won.
Is it that we are not prepared to wait for five days for a test result? Is it that people want a steady flow of wickets and a guarantee of a result?
If that is the case, then perhaps it's time for the four-day test played on bowler-friendly pitches. In many ways, the four-day test could save test cricket. It's shorter, faster and, if they produce bowler-friendly surfaces, then no one wastes their time watching a draw.
Four-day test matches may allow for more test matches and hopefully the death of the two-match series. While I am desperate to see that death - which pays test cricket little more than lip service - I do not believe a test victory should be something gifted to either side just by virtue of turning up to play nor should it be something set up via forfeited innings and dodgy declarations.
A test victory should be something that is hard-earned or achieved via exceptional skill. When this is the case, and it can only be the case in conditions that demand outstanding bowling, then the significance of victory will not be lost by those who follow the game.
Entertaining and instant cricket is offered via T20s and ODIs but, for truly absorbing cricket, you need test matches. Watching bowlers work through plans and work on batsmen is what I find absorbing.
But I may be a dying breed and should test cricket be protected for the likes of me? Yes, I think it should. Not only should test cricket be preserved but also the way it should be played must be preserved as well.
Let's get back to Dunedin and the bad PR its placid wicket produced. My feeling is that the dissatisfaction around that draw was more a function of it being the New Zealand team trying to bowl a good team out twice in batting conditions - something our attack struggles to do.
I would much rather see our cricket develop to a point that they can force a result in such conditions than give them the green, seaming, lottery conditions they currently require.