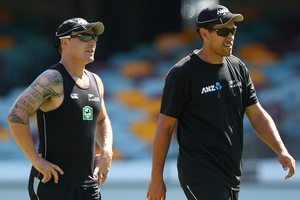 Ross Taylor's first morning back in camp was no time for a beer but the former skipper says he and Brendon McCullum will share a drink in the coming days.
Taylor rejoined the Black Caps set-up for training at Eden Park today, in preparation for the first match in the ANZ Twenty20 series against England on Saturday.
It was his first involvement with the national team since being dumped as captain in favour of McCullum during last November's tour of Sri Lanka, and Taylor was looking forward to catching up with his new skipper.
"[Have we] had a beer? No, I met Brendon this morning so I'm sure we'll go and meet up over the next couple of days somewhere.''
When the pair does meet, the get-together is unlikely to become a barroom brawl as Taylor insisted there was no need to clear the air with his former deputy.
"I don't think there was anything wrong with our relationship in the first place.''
The same cannot be said for Taylor's relationship with coach Mike Hesson. He said his recent meeting with Hesson went well, though it will take time to repair the damage done by his demotion.
"The relationship's a work in progress, but I've got friends in the team and I'm looking forward to playing for them, and obviously playing for management and the country as well.''
Those friends have welcomed Taylor back to the set-up with open arms, while he was also pleased to see a number of new faces in the team. And, even with reports of some players being dissatisfied during his time at the helm, Taylor thought there were no grudges among certain factions.
"I can't speak for anyone else - I can only see what I see myself - but I haven't seen anything untoward towards myself. And I've just been acting like my normal self, so I don't see anything there.
"It's been nice to see some fresh faces that I don't know and have only played against. They've brought a new enthusiasm into the team.''
While Taylor will need some time to adapt to his new role within the team, the adjustment period shouldn't last for too long considering he was captain for only 18 months. He said he would continue to be vocal on the field as the Black Caps' environment was one in which any player could speak up.
"I did that when I wasn't captain so I don't see any change in that. Regardless of whether you're a senior player or a junior player, if you've got something to offer the team you'd be stupid not to offer it.''
Taylor was greeted by a substantial media throng after training this morning - an illustration, if one were needed, the captaincy saga is one story that won't go away. He said everyone within the team was keen to see the back of the affair, though he could understand the continued interest.
"I think everyone else is. There's probably still people outside of the team that want to stir it up a little bit, but we can't control that. There's a few cameras here and I'm sure they're here for a reason.
"You've just got to get on with it. It is what it is, and I'm sure come Saturday it'll be all forgotten.''
- APNZ