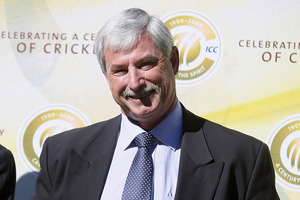 The future of test cricket in New Zealand is on very shaky ground according to the country's greatest ever bowler.
In an interview with The Telegraph, Sir Richard Hadlee said that the focus on one-day cricket - exacerbated by the riches the Indian Premier League offers to Kiwi cricketers - has left him gloomy over the future of the game in New Zealand.
"Our test record has been very poor," he said. "[Director of cricket] John Buchanan has said clearly focus is on the one-day game. Resources will go into that. Crowds are not turning up and it is a pity the test game is suffering. The biggest problem we are seeing with our test players is they are getting confused how to play different forms of the game.
"We are technically exposed. Test cricket here needs a lot more resources put into it. Our domestic cricket is not strong enough. With the money that is available in one-day cricket the emphasis for some players is to say 'that is what I want to play more of' and they go to India and other leagues.
The difficulty is they will get burnt out or get into more bad habits and that creates mediocrity in other forms of the game."
Hadlee, 61, was replaced as the Black Caps' chairman of selectors in 2008 and hasn't watched a game of cricket in New Zealand since then. But he has kept up to date with the news, and described Mike Hesson's removal in November of captain Ross Taylor as "appalling timing".
"If there is to be harmony in the side depends on whether Ross Taylor is included because clearly there have been different factions: those supporting Taylor and those supporting another captain.
"The important thing from Ross Taylor's point of view is to get his head space right. It is going to be an uneasy time if and when he comes back in the side. The way the team performed in South Africa in the one-dayers [they won the 50-over series] shows there is harmony. The results were very good in that one-day series but it is a testing time that lies ahead."
In Taylor's absence New Zealand were hammered in the Test series by South Africa; they were dismissed for 45 in one innings and are ranked eighth by the ICC, making England strong favourites for the Test series which starts on March 5.
"By making a decision to replace Ross Taylor as captain, Mike Hesson has shown he has got balls because John Buchanan is the director of cricket here and is a pro-Taylor man, but the coach he helped get his job has gone against his decision-making.
"Whether it is the right or wrong decision is to be determined but it is the process and how it was done that has caused the most animosity."
New Zealand only has one test series victory in 17 at home over England. That came in 1983-84 when Jeremy Coney, Martin and Jeff Crowe and Ian Smith made their maiden test centuries and Hadlee topped the bowling averages with 12 wickets at 19.33.
What Hesson would give for five test centuries and a Hadlee-esque performance off the short run in March.
- nzherald.co.nz