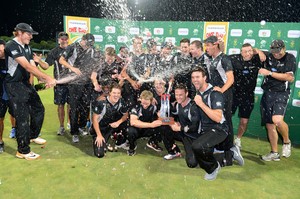 I'll be honest with you - I cried. Two or three salty little droplets squeezed from my 36-year-old tear ducts as the New Zealand cricket team embraced like first-time ecstasy users after their first series win in South Africa.
Not that it's difficult to make me cry. I often cry singing the national anthem. I cried when I saw Paul Holmes receiving his knighthood, and I sometimes cry on first sight of Auckland's green murk from a plane window after a long stint overseas.
After the dust had settled from the Kimberley game I ventured outside to sample the neighbourhood mood and came across a Samoan funeral cortege departing from their home in Hakanoa St. I welled-up as the distraught family gently slid the casket of their loved one into the back of a black hearse and then hopped into a Previa van with gothic writing saying "da boss" on the back to follow. Five teardrops in one day. Something was clearly not right.
Wandering streets of over-priced villas and late-model Audis, I found myself getting angry at the sudden change of New Zealand cricket narrative from gutless national embarrassments to world-beating heroes. This wasn't part of the story arc. Our game's in turmoil. We're supposed to be international easy-beats.
Who's to blame for this appalling reversal of form?
Naturally, the first place I went for answers was New Zealand's bastion of sporting common sense, Radio Sport. I happened upon midday host and celebrity boxer Mark Whatshisface, whose cricketing knowledge has been likened to a cross between Snooki's and Colmes' from Fox News' Hannity and Colmes.
Whatshisface wasn't getting carried away with the historic series win - far from it - he suggested the team stop celebrating and have an early night ready for training tomorrow. According to him, winning only served as a diversion to the fundamental flaws which New Zealand cricket faces. So if winning wasn't good enough - what was?
Maybe the print media had the answers? I reread the Herald's series entitled The Blame Game looking for something to pin our success to but couldn't link identifying Pacific Island talent with any moment in the games from either Paarl, Kimberley or the other place.
It's a well-known fact that New Zealand Cricket's administration has been run by muppets since Chris Doig left, surely they're to blame somehow? David White texted Brendon McCullum and Mike Hesson before the game in Kimberley to wish them luck. Nobody knows whether he used proper grammar or text speak but that text may have been the reason we won.
Or maybe the win came from higher up? Chris Moller is regarded as being politically savvy. Did he engineer the series victory from the boardroom table perhaps?
How about the Hesson v Wright narrative that's been getting some carbon dioxide on talkback recently. Former coach John Wright is old-school, he glued a glove on to his bat handle in the 80s and tells a good yarn - every cricketer understands how that helps you bowl tidily during the batting powerplay. Was it his doing/non-doing?
Indian bookmakers? The killer of the National Bank horse? I was running out of things to blame. So I watched the highlights of all three games again hoping to find something I'd missed the first time.
After three hours of considered viewing I found the culprits. Kane Williamson with his amazing 145, Kyle Mills' experience, Martin Guptill with his sensational fielding and James Franklin with his Antonie Dixon eyes.
A couple of superb batting performances, some solid partnerships, plus three or four pieces of great out-cricket under pressure is all it takes to go from shocking embarrassments to national heroes.
The future all of a sudden looks a whole lot brighter again. Or is our optimism symptomatic of a much deeper problem?