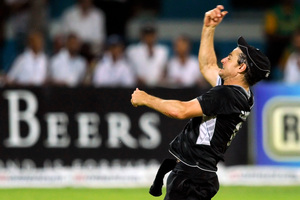 As New Zealand suns itself in the glow of the first one-day cricket series win in South Africa, it might be time to consider Nathan McCullum's role against England.
The older McCullum brother appeared to be a catalyst in galvanising the New Zealand team to wins in Paarl and Kimberley.
If Daniel Vettori's injuries continue to plague him, could McCullum be considered a test option on a needs-must basis?
Yes, it's a bold - and possibly flawed - concept. McCullum has been pigeon-holed as a limited overs exponent since his international debut in September 2007 during the World Twenty20 in South Africa. His first-class averages are tepid for the most part, yet look how his presence against South Africa generated enthusiasm.
Such fierce competitiveness is welcome. His dedication in the field alone is worthy of investigation. Regular examples of run-saving, catching, chasing and throwing constantly placed South African batsmen under threat.
His name featured six times on the opposition scoresheet in the first two one-dayers as a result of one wicket, two run-outs and three catches .
McCullum has played one first-class match this season, away against Auckland. He made a duck and 77 batting at No5 for Otago and took four wickets for 26 (all lower order batsmen) off 12.2 overs as part of a three-wicket victory; tidy figures but generally not worthy of a test call-up. He averages 25.49 with the bat and 41.25 with the ball in 57 first-class matches since debuting in March 2000. He has a first-class hundred (vs Northern Districts in 2007-08) and 13 fifties.
He has two five-wicket bags, the best of which (six for 90) came against India A on a New Zealand A tour - coached by Mike Hesson - in 2008-09. His bowling average on that tour was 28.83.
There's no hiding that any test selection of McCullum would be a punt but trialling him against Bruce Martin or Todd Astle in the four-day warm-up match starting on February 27 in Queenstown could be useful.
Part-time spinner Jeetan Patel's efforts with the ball (average 194) and bat (average 4.33) in the test series against South Africa suggest his international career will cease.
Astle was dropped somewhat unfairly after a solid test debut in the second test win against Sri Lanka and, at 26 years of age, deserves another shot at some point.
At 32, Bruce Martin is the same age as McCullum. In hindsight, he should have played the second test against South Africa. He averages less with the bat (18.64) than McCullum in first-class cricket but also less with the ball (34.57) in 110 matches. Martin has two first-class centuries (one of which was scored against Northern Districts this season), 18 five-wicket bags and has twice taken 10 wickets or more in a match.
McCullum has regularly competed against the best in the world (at the Indian Premier, Big Bash and Champions leagues) albeit in shorter forms. He would not be intimidated by the prospect of playing England, the second-ranked side in test cricket; hardly an ideal series to blood novices.
Naysayers will cite examples like New Zealand's Chris Harris, Australia's Michael Bevan and India's Suresh Raina as players who struggled to make the transition from one-dayers to tests. But, after the dreadful test series against South Africa, New Zealand needs to lend a thought to breaking down the perceived barriers between limited overs and test players because, piecharts or not, the selectors can hardly afford to be fussy.