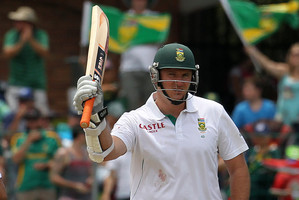 Graeme smith is world cricket's longest-serving captain, running the game's best test team.
He's at the head of a smoothly functioning operation - on the field at least. Off it, there are ructions around the board table ... but that's another story.
He's leading his country for the 99th time in a test at Port Elizabeth, out of 107 test appearances. His team is loaded with experience and class and Smith, at 31, is at the peak of his leadership powers. This state of affairs hasn't always been in place, however. When Smith took charge, against Bangladesh at Chittagong in April 2003, it was a different story.
Discipline, in all senses, wasn't all it could have been. Selections had a political whiff to them at times. Relentless marching to victory was not the order of the time.
Smith was able to reflect on that this week. He is a content leader these days, happy in his own role, surrounded by mature, top-class cricketers.
Now go back to Port Elizabeth in December 2004. England won that test by seven wickets. That gave Smith a record of 21 tests as skipper, of which eight had been won, six drawn and seven lost. Those wins included two over Bangladesh, one against New Zealand and three against a weak West Indian side.
It wasn't a glittering record and at the time Smith spoke from the heart about his unhappiness at the unstable situation: "We do need to know what our best team is. We're a young side and we need to stabilise all areas from the selectors down to the coach, down to the team," he said, words which should resonate around the New Zealand cricket set-up right now.
"We have to start working towards a goal. Every time we start again, it's back to the beginning. The more you jump around, the worse things become. Within the team you've got to identify key positions and key players."
This week Smith recalled those day: "Probably we'd have been running 60 shuttles up and down stairs back in the day," he laughed of training routines.
"I'd like to think things are a lot more settled now and we have a better understanding of how to be successful. There's a really good maturity in the group, just understanding what needs to be done at this level and how to get the best out of people.
"That's the key difference. Back then we were always hardworking. Discipline was the major word around South African cricket. Now we're allowing people to grow."
Having a support staff of 11 now also enables Smith to focus on his core role, something he'd have loved to have had earlier in his captaincy career.
"South African cricket has always been in a growth period and I'd like to think we are taking a step forward," Smith said.
Smith relishes the greater control he has now, compared with his early seasons in charge.
"A lot of determination got me through the tough years, and a lot of bumping my head."
One of those occasions came in New Zealand when he crossed paths with Stephen Fleming in 2004. Fleming was then in the eighth year of his 80-test reign as skipper. Fleming ensured the seven-years-younger Smith had a difficult time, verbally sparring with the left-hander, getting under his skin. It helped Smith's development into the dominant leader he is now.
" ... The big thing for me on that tour was getting 100 in Wellington [to level the test series]. After being under pressure to come through and perform, that was a big stepping stone for me in handling pressure."
Smith insists he's now focused only on the cricket, not the peripherals. The support staff see to that.
"My brain moves on to 'this is what we're facing, this is what we've got to do'. That understanding and growth in my game has been important.