In-form Central Districts right-hander remains coy about international prospects despite dream run of big scores.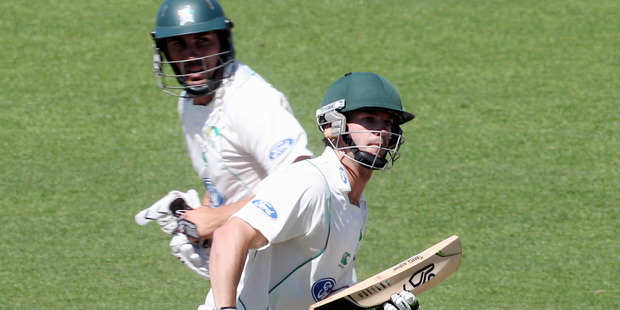 We even joke a little that he's always in his bubble. Not a lot seems to faze him.CD captain Jamie How Talk to people who know Carl Cachopa and you get a sense of the qualities which have helped him be the most prolific batsman in domestic cricket this year.
When Cachopa scored 123 against Otago to help set up a 10-wicket win in Napier this week, it was his sixth century in seven successive first-class games in which he's had a bat going back to the tail end of last season.
It's a remarkable run and in the course of producing it, certain traits have become apparent to those around him.
"One thing that strikes you about him is his composure," CD's former international opener Jamie How said yesterday. "We even joke a little that he's always in his bubble. Not a lot seems to faze him."
Or take CD coach Alan Hunt.
"He has an ability to put what's been, behind him," he said. "He has a pretty clear process about his preparation, know what he wants before the game starts and has a clear pathway to getting prepared for the day. He executes within his plans and doesn't go outside them."
So a self-contained player, and one who has had to clamber out of a few troughs along the way.
Those experiences are invaluable and Cachopa appeals as a player now making the most of the lessons he's learned.
He insists his approach to batting hasn't changed that much.
"Every season you grow as a cricketer, gain more confidence, and learn more about your game," Cachopa said.
"You keep moving forward and try improve each season."
There are three Cachopa brothers knocking around domestic cricket. Carl is the oldest and had three seasons in Auckland, before heading to Australia for three years with his middle brother Brad.
Brad Cachopa had two seasons with Auckland and is now at Canterbury. Then there's Craig, who hit his maiden century, 166 in a record-breaking 377-run sixth wicket stand with Colin Munro for Auckland against Wellington at Eden Park this week.
The family arrived from South Africa about 10 years ago and settled in Auckland. In Carl's case, he found it hard to get a foothold in Auckland so, with Brad, he headed west largely for a spot of OE, pitching up in Adelaide where they spent three seasons at the West Torrens club.
In any sport, adversity hardens the mind and advances the learning process. Hunt believes Cachopa has benefited from being given a chance.
He got three centuries late last season when promoted to bat at No3. When this summer began, it would have been "crazy", said Hunt to move him back down the order.
Hunt points to the faith put in him by the management staff that he was needed and respected and given an opportunity to succeed over time.
"When you're worried about your place in the side you can't relax and play. He knew we'd stand by him and now we're getting a really nice payback."
Cachopa puts it down to adapting to the top of the order and being aware of the responsibility of that role.
"It's a combination of those things as well as hard work and a good environment that has produced some good results," he said.
How believes Cachopa's experiences have helped him.
"He's been round the traps a bit and obviously found a formula that seems to be working pretty well. He's had to do it the hard way in some respects, and that's really helped him.
"There's probably been times he's questioned whether 'am I going to be a cricketer or not'. What sums him up best is he's learnt his trade.
"He knows his game very well and he's one of the hardest working guys in the team and it's nice to see those guys succeed. We owe a lot of our success to him."
At times like this, a players' international prospects tend to get floated about the cricket fraternity. Hunt's view is straightforward.
"He's got to be contending for New Zealand A, that's the next step and if that works and he shows his quality there, he's definitely moving in the right direction.
"But I'd be careful rushing things. I'm not saying he's not good enough, he's certainly shown the ability to get the job done consistently but it's one step at a time."
Cachopa, too, is not getting ahead of himself while agreeing he's in the best form of his life right now.
"Everyone wants to represent their country but I haven't really thought about it. The schedule is so busy you just take one day at a time."
But it's got a nice ring to it, right?
"At the end of the day if that's how the cards fall that's great. If not, I'll just carry on trying to do my best and go from there."