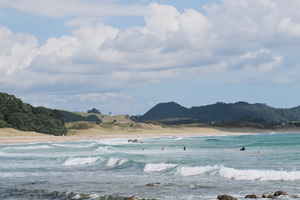 The surf lifesaving season kicked off without any serious incidents at one of the country's most treacherous spots, Hot Water Beach, but lifeguards there fear that won't last long as they stare "down the barrel" towards a tourist-packed summer.
Surf clubs around the upper North Island yesterday reported a quiet start to the season, with patchy weather and modest turnouts keeping away trouble.
At Hot Water Beach on the Coromandel, about 80 beachgoers were out on Saturday and more than 100 yesterday. Club chairman Gary Hinds said with warmer weather and the tourist season ramping up, he had fears for the months ahead.
Five swimmers had already been rescued from the beach's notorious rip tides in the past few weeks.
"It does scare me, because over the next six months we are looking down the barrel of that happening here again."
Mr Hinds said unsuccessful efforts had been made this year to gain the $18,000 needed to extend the season by five weeks. Approaches were made to Thames-Coromandel District Council and Tourism New Zealand, which Mr Blinds felt had an obligation to provide funds.
But the club had not been able to secure the extra money, he said.
The club had resorted to taking money from its own kitty to provide extra cover.
Hot Water Beach lifeguards were each racking up more than 150 volunteer hours each season, more than double the hours of those at most other New Zealand beaches, and last year the club made 79 rescues - the third-highest rate in the country.
"Once the swell gets over about a half a metre to a metre and a half, there will be drownings because we won't be out there to look after them."
Between now and Easter, around 4000 volunteer lifeguards will spend more than 200,000 hours watching over 80 beaches throughout the country.