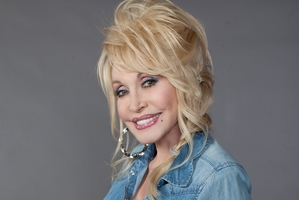 It's been a long time between drinks for Dolly Parton's Kiwi fans, but the iconic country singer is promising "new and exciting things" when she performs here in February.
Parton is set to bring her Blue Smoke World Tour to Auckland's Vector Arena on February 7, the third visit from the Jolene singer after shows in 1979 and 1987.
The 67-year-old Tennessee singer - whose last performance here was alongside Kenny Rogers, Suzanne Prentice and the late Billy T. James and attracted 50,000 people to Mt Smart - told the Herald she was "excited" about her return.
"I'm looking forward to seeing my many fans in New Zealand. The last time I was there was with Kenny Rogers, back when Islands in the Stream was hot and we were out and running about. I'm very excited."
Despite her age, Parton said touring still felt like a "vacation" and she had no plans to retire.
"I like to work and I enjoy it. I just don't know what it really would mean to say, 'I'm retired'.
"I can't imagine sitting at home doing nothing. My life has been like a paid vacation ... even when I'm comin' over there, this is like a great vacation to me."
Parton, who is set to release her 42nd album soon, confirmed she'd be bringing her full tour Downunder.
"There's about 12 of us on stage, but there's about 80 people on the whole tour - drivers, crew, lights, the sound and all that."
She said the show would feel like she was coming home. "I love my fans in that part of the world. You've been so very good to me for so many years and I know that we're gonna have a wonderful time. It's a long way from home in your part of the world, but I know I'll feel like I'm right at home."
Parton is said to have written more than 3000 songs, including the chart-topper I Will Always Love You, and is one of the most successful country singers of all time.
Recent tours have generated some of her biggest crowds to date, thanks to a career-spanning set-list that also includes bluegrass medleys of hits from the Beatles and Led Zeppelin. Tickets for the show go on sale on Monday, November 11, with a My Live Nation pre-sale on sale from 2pm on November 6.
Follow @nzherald_ent on Twitter for all the latest entertainment news.
- TimeOut