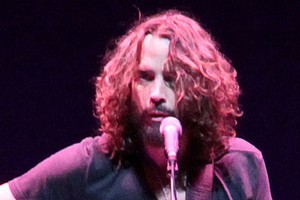 Relaxed, smiling and cracking jokes while perched on the edge of a stool - of all the guises Chris Cornell has performed under, New Zealand fans have never seen him quite like this.
As the front man for grunge kings Soundgarden and rock supergroup Audioslave, Cornell has crafted a persona as a moody and intense individual, and one with a towering set of lungs.
But that voice of his - one of the best in the business - is usually heard howling over layers of guitar rawk.
Now, here in the first of two solo Auckland shows on his Songbook tour, a friendly Cornell proved he can be just as engaging when backed by one of the several acoustic guitars he has dotted around the stage.
He sure looked lonely up there, but the fans packed into the ASB Theatre gave Cornell a rapturous welcome as he launched into a set full of hits, B-sides, soundtrack singles and covers that showed off his influences.
Those hits sure stood out, like Audioslave's Doesn't Remind Me and the Soundgarden classics Fell on Black Days, Black Hole Sun and Burden in My Hand, which appeared early in his set.
In his two-hour set there was also room for the Beatles' Ticket to Ride, his single for the Bond film Casino Royal, newbie Cleaning the Gun and even a couple of Mother Love Bone and Temple of the Dog songs.
But Cornell was in an accommodating mood, joking around with the rowdy crowd and taking requests like a grunge jukebox - even performing Outshined acoustically for the first time.
It sure whetted the appetite for next year's Big Day Out when Soundgarden - reunited after 13 years away and currently recording a new album - will headline the main stage.
But it was more than that. It was a chance to meet a man who's been a bit of a mystery up until now - and it turns out he's not that grumpy after all.
He's a charming, witty host with a stunning voice and enough songs to have played twice as long as he did. No wonder Cornell got a standing ovation - he deserved every second of it.
What: Chris Cornell
Where: ASB Theatre, Auckland
When: Tuesday, October 5
- Herald online