In town to do his bit for Christchurch, head Foo Fighter Dave Grohl talked to Scott Kara about how his former band's classic Nevermind has impacted on his present band's forthcoming album - and the healing powers of music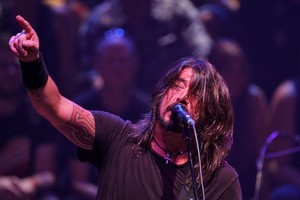 Dave Grohl remembers the good old days of Nirvana's Nevermind fondly. It's been on his mind recently because the latest Foo Fighters album, Wasting Light, which is out on April 12, sees him reunited for the first time in 20 years with Butch Vig, the man who produced the grunge era's 1991 classic.
"We were just kids back then, you know. I was 21 or 22, and Butch was just a few years older than me, but that [album] changed our lives in a profound way that's hard to even explain. Overnight our lives and careers just changed," he says.
Of course, his Nirvana years were also tinged with sadness and lately he's also been thinking a lot about the impact the suicide of band leader Kurt Cobain had on him - and on Vig.
"[The album] was a defining moment in both of our lives, and so was losing Kurt. We're bonded by these two things: one of them really beautiful, and one of them really tragic, and when you go through that range of emotion with someone I think that bond is life-long and you become inseparable in a way."
Not that his poignant reflection is getting him down. Grohl is at his friendly and chatty best when TimeOut catches up with the frontman just an hour after he flew into Auckland for the band's special earthquake relief show on Tuesday.
The Foo Fighters started off as Grohl's one-man post-Cobain band project, with the drummer-turning-multi-instrumentalist playing almost all the parts on the band's self-titled debut album from 1995. These days, with around 30 million album sales and stadium-pulling power that makes them one of rock's top drawcards, they have eclipsed his old band's popularity to become one of the biggest acts of the past 20 years.
Not that it's gone to Grohl's head. It's clear the guy - renowned as one of the friendliest blokes in rock - loves to talk, whether it's about his old friend Kurt, juggling being a daddy and a rock star, or doing a duet with his childhood hero Bob Mould from 80's hardcore heroes, Husker Du. "I didn't realise it until recently but I have ripped off Husker Du so much over the last 16 years in the Foo Fighters," he laughs.
So for more heartfelt confessions and the gospel according to Dave Grohl, read on ...
Playing a relief concert is an example of the power music has to make a difference. So what does music mean to you and how has that changed over the years?
If there's one good thing about music, it can heal you. Music can save your life. It saved my life. After Nirvana was over and Kurt died I realised music was the only thing that was going to help me get on with it even though I couldn't listen to it for a while. It was hard for me to even turn on the radio because I was heartbroken about what happened. But my love for music was what helped me survive and start over. And that's what the Foo Fighters have always been about - starting over, making your way through things, surviving and second chances. So if we can play for a good cause, raise a little money, and show some people a good time then we're doing a good thing.
So where are the Foo Fighters at on the new album?
After the last album [2007's Echoes, Silence, Patience and Grace], and the year and a half tour we did for it, I just wanted to step away from it for a little. We'd never taken a break in this band since 1995. I think we started feeling like we needed a break, but we also started feeling like you needed a break from us. We were putting out records every two years, you'd turn on the radio and there's another Foo Fighters song, and we were touring your country again. I was like, 'I don't want to burn this thing out, this is a good thing and I want this to last forever'. So everybody went out and did their different things. I did Them Crooked Vultures, and it was so f***** amazing, but on my days off I was in the hotel room writing Foo Fighters' songs because I knew this had to be the best album we'd ever made.
How is it distinct from the other six Foo Fighters albums then?
We recorded it in my garage without any computers, totally analogue, with Butch Vig. It made for an experience, which we filmed and made a documentary of. So the whole process has been more than just making a record - going back to using a 24-track tape, something that I feel most comfortable doing, because I don't like computers. They sap the human element out of a song and I don't like it when people tune their vocals with a computer, I don't like it when people make the drums sound like perfect machines. I like that human raw element of music and that, plus Butch Vig, who I haven't made a record with in 20 years, all done in my garage can only equal the f****** most rocking album we've ever made.
What was it like working with him in the studio 20 years on?
Really no different. Although he wears cologne now, and he never used to, and he drives a nice car now too. I don't think he ever had one of those before. [laughs] But I've always stayed in touch with Butch. [In the recording studio] he does a really specific thing: he takes a band, strips away all of the fat, keeps the thing that the band really needs, and turns it up to 11. He makes them sound unlike they've ever sounded before - bigger, cleaner and meaner - without losing the identity of the band. And he's a pop producer; he's made some massive rock records, but that guy digs pop music. Every band that records with him - Sonic Youth's Dirty, that's their Butch Vig record, Against Me's New Wave, that's their Butch Vig record - he makes them sound f****** huge.
One song that sticks out on Wasting Light is Dear Rosemary with Bob Mould [from 80s hardcore band Husker Du]. Did you know him?
Oh no. But when I was a kid in the early 80s growing up as a skateboarding punk rock kid in the suburbs of Washington DC, Husker Du's double album Zen Arcade was [and still is] one of my favourite albums of all time.
And during the summer of 84 it was the soundtrack to my life and, I didn't realise it until recently, but I have ripped off Husker Du so much over the last 16 years.
I hadn't listened to Zen Arcade in a while and I put it on and I thought, 'Oh my God I stole that. Oh my God I stole that too'. I pilfered that album. I had never met Bob, but I saw Husker Du a number of times.
So how did you hook up?
Last year I think it was, I was at the White House performing with f****** Paul McCartney, and the club that I went to to see punk shows when I was growing up, which is just down the road from the White House, was having their 30th anniversary and the owner Seth asked me if I could perform.
Bob Mould was performing, Ian McKaye [Fugazi] was performing, and Henry Rollins was MCing. So I met Bob then and when Seth introduced me to him I said, 'I'm sure I don't have to tell you but you know I've been ripping you off mercifully for 16 years'. He very nicely said, 'I know and thank you for saying that'. We swapped numbers. He's a legend.
One last thing. How is it going juggling the band and fatherhood?
It's fun. I have the greatest job in the world and I have the greatest family in the world. When I was a kid I would go out on the road for six months at a time. And now I go out on the road for 10 days and then I go home and I try to take my family [wife Jordyn and daughters Violet and Harper] with me whenever I can.
But doing the record at the house this time round was a great opportunity for me to be with my family and have them see what I do. I had the conversation with Violet - she's nearly five now - about a year and a half ago, and I was on my way to the studio and I said, 'Okay Boo, I gotta go'. She said, 'No, where are you going?' 'I gotta go to the studio because that's my job'. So I sat her down, and she has this book with all these little characters - one's a policeman, one's a lawyer - and I said, 'You know sometimes daddies are doctors, or lawyers, well I'm a musician. That's my job and I do that to get money so that I can get food for you and mummy, and clothes and toys'.
"And she immediately said, 'I don't have enough toys'.
My kids are amazing, and Harper is almost two, and they are my best friends.
LOWDOWN
Who: Dave Grohl of the Foo Fighters.
What: New album, Wasting Light, out April 12 along with Foo Fighters doco Back & Forth.
Key albums: Foo Fighters (1995); The Colour and the Shape (1997); There Is Nothing Left To Lose (1999); Echoes, Silence, Patience and Grace (2007). In Nirvana, Nevermind (1991). Queens of the Stone Age, Songs For the Deaf (2002). Them Crooked Vultures, Them Crooked Vultures (2009).
-TimeOut