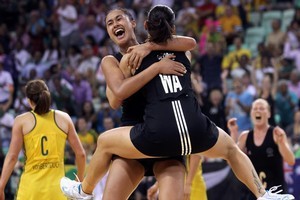 A big question has flown home with our Commonwealth Games athletes and administrators this week - how do we beat the Australians more often?
New Zealand's late flurry on the medals table, in particular that stirring, emotional Silver Ferns victory, lifted the team from being the first in 40 years to come home with fewer than five gold medals.
The haul of 36, while seemingly acceptable, is affected in terms of perception by the fact that funding agency Sparc no longer makes medal targets public.
The last time that was tried was in Melbourne in 2006, when Sparc nominated 45 medals as satisfactory. New Zealand returned 31 - and a record number (29) of fourth placings; leading to the inevitable flurry of questioning about our athletes' preparation, funding and mental strength.
There was an equally inevitable lack of conclusions and no noticeable changes in the way New Zealand identifies, supports and produces elite athletes.
Since then, Sparc has politically declined to say how many medals it thinks its funding should produce.
It's a pity because it provides a context. The Delhi Games suffered from a lack of spectators and star athletes. In the blue riband event, the men's 100m sprint, no fewer than 11 of the top-ranked Commonwealth sprinters were not in Delhi. In the women's 100m, only one of the top 10 was present. New Zealand's medal tally needs to be assessed in that context.
However, the clearest implication from the Delhi Games is that we may be slipping even further behind our powerhouse neighbours. Evidence for that is inherent in the record number of silvers; New Zealand's occupation of an unusually low position on the medals table; and the fact that even crack teams like cycling returned record numbers of medals, but only one gold.
Also clear was a new and disturbing apathy about Australia's superiority when the golds were refusing to accrue for New Zealand. The Aussies are, arguably, the best sporting nation in the world, so there's no shame in coming second. But there is a great deal of shame in accepting it so readily, as some quarters did. One New Zealand commentator even advanced this: "A more relevant reason our gold comparison is poor is because we play the same sports they [Australians] play, a result of our proximity and shared heritage. Generally speaking, the sports we're good at, they're good at too.
"What it didn't prove was that our high-performance programmes are up the spout and in need of an overhaul. New Zealand will continue to produce celebrated champions and will also continue to produce countless athletes to be beaten by Australians.
"It's not fatalism, it's reality."
Frankly, this is India-weary, tired-old-journo flatulence. The cyclists were harder on themselves than this bloke was; saying they were disappointed not to win more golds. They didn't say: 'Huh. The Aussies are better. Let's go down the road and have a milkshake'.
By any measure, all the pre-Games statements coming out of the cycling camp, and from journalists covering them, was that this was a world-class team capable of gold-class superiority. In practice, the Aussies spanked them.
Why? If that doesn't give rise to question our high performance programmes, what does?
Take our commentator's disingenuous comparison - we seem to have got better at producing "countless athletes to be beaten by Australians" and not so crash hot at producing "celebrated champions". It is reality. It's also fatalism.
The Ferns beat Aussie's best. How? Why? Why are we not distilling the essence of what made Peter Snell great? Athletes like John Walker, Sarah Ulmer, Val Adams, Murray Halberg, Danyon Loader, the All Blacks, and too many more to name who didn't shrug and say the Aussies were better; it's a reality; get over yourselves. Silver's fine.
With attitudes like that in the public arena, Governments will never be moved to issue more funds to the sporting sector - the area most agree is fundamental to success.
Governments have suckled on the teat of sporting triumphs. Prime Ministers from Rob Muldoon to David Lange to Helen Clark and now John Key pop up to bask in reflected glory when the All Blacks win or an Olympic gold medal is gained; or the America's Cup.
Key even does a back-slapping session on Radio Sport; where no hard questions are asked but where he aligns himself with the sporting man and woman while offering no solutions.
It's cheap at the price. Political hay is made while the sun shines and they are nowhere to be seen when the sporting clouds gather. It's an old political law - be seen at dinner with the winners; let the losers starve.
But there seems to be no public groundswell insisting on better results. Apathy rules.
The big difference across the Tasman has been the Australian Institute of Sport. Humungously funded, it was born when the Australians returned almost empty-handed from the 1976 Montreal Olympics - when many Kiwis poked fun at their big brothers.
The fun poking has all been in one direction since the AIS was conceived, funded and maintained. It has been a phenomenal success story. ,
Which is not to say that New Zealand needs to do the exact same thing. Financial reality must intervene somewhere.
But let's at least have a re-think; find out and address what can be done better. Let's not surrender to lethargy inspired by the success of the Australians and the decline of the Commonwealth Games.
This Games used the 29028 war-cry of Hillary and Tenzing as inspiration; an Everest reference.
If there's one thing obvious from Delhi, it is that this was no Everest - and if New Zealand does not pick up its sporting game, we'll be aiming only at Mt Wellingtons.
What's worse, we'll be happy with that.