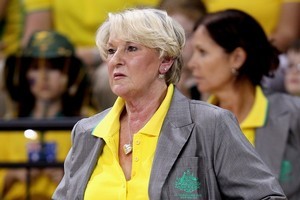 I was over the Commonwealth Games before they started. I had no intention of watching them.
Sure the Games have come a long way since they were first staged in 1911 as the Festival of the Empire to celebrate the coronation of King George. Back then, just three teams competed - England, Canada and a composite team from Australia and New Zealand.
Now, more than 70 nations compete in what has become a multi-million-dollar extravaganza. Compared with World Cups and Olympic Games though, the Commonwealth Games just don't generate the same level of excitement.
Until I came home after work one night, turned on the telly and saw the opening seconds of the sevens final. I was hooked. What a game. It had everything. Hope. Despair. Daring to dream. And then utter euphoria as New Zealand stole the game off the Aussies.
Kurt Baker probably expressed exactly what we were all feeling when he goaded his Aussie opposite with a cheeky tap as he scored the winning try.
I didn't watch everything. But I loved watching our teams take on Australia. Because when it comes to playing Australia, it really matters. That's the way it is with little brothers trying to compete with big ones. That's why the golds in the netball and the sevens mean so much.
The Aussies - and credit to them - look to the world for their competition. They don't look in the rear-view mirror at us. In swimming, athletics, diving - the Aussies pit themselves against the world. And yet, when it comes to netball and rugby, we're it. We're the only competition they've got. So to win against such a competitive and international opponent is so, so sweet.
And I know it's not in the Commonwealth Games spirit, but did you see Norma Plummer's face looking like a smacked bottom after our Silver Ferns turned Golden Girls in extra time? It made our win in the netball the best win of the Games for me.