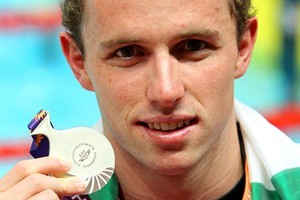 Commonwealth Games silver medallist Daniel Bell will have a nervous wait to see if there are further repercussions after he was sent home from India for breaking Swimming New Zealand's (SNZ) zero-tolerance alcohol protocol.
Bell, who won a silver medal in the men's 100m backstroke at the recently-completed Games in New Delhi, had "a couple of beers" after the swimming meet finished and was sent home immediately, SNZ chief executive Mike Byrne confirmed to NZPA today.
It is the third time in the past two years that Bell has been involved in an alcohol-related incident while overseas with a New Zealand team.
Teammates Dean Kent, Corney Swanepoel and Cameron Gibson were expelled from the New Zealand team and the Olympic Village after taking a photo of a drunk Bell sitting on the toilet at a social function at the 2008 Beijing Olympics.
And Bell was last year admitted to hospital in Rome suffering from excessive alcohol intake following the completion of the world championships.
Byrne, who has only just got back from India himself, said he would wait to discuss the incident with team management before deciding whether further action would be taken against the talented 20-year-old.
"I don't know at this stage," he said.
"We need to have a sit down with the rest of the management when they get back, have a discussion and about it and review what we do."
Byrne said a zero-tolerance policy had been put in place for international trips, in consultation with head coach Mark Regan, and all the swimmers were aware of it.
"We had a team protocol that was in place which was one of zero-tolerance to alcohol and unfortunately Daniel broke that policy, so he was sent home immediately," Byrne said.
"He didn't do anything wrong apart from the fact he broke the team protocol. Everyone knew there was zero tolerance, it's a decision we've taken because we've had issues in the past with alcohol.
"Daniel chose to have a couple of beers and he's paying the price.
"It's like with other sports, if you put the rules in place you have to enforce them, otherwise they are ineffective. That what we've done."
While Byrne considered Bell's transgression toward the minor end of the scale, he acknowledged the swimmer had alcohol issues which needed to be addressed.
"He has had a few issues at previous events, and I've tried to help him through those."
It was a disappointing end to an otherwise good meet for the New Zealand swim team, who won six medals, including Bell's silver.
- NZPA