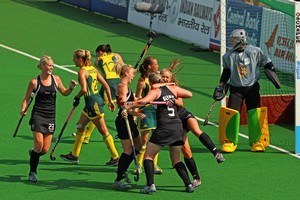 There is no question silver has taken over as the New Zealand contingent's favourite colour outside of black at the Commonwealth Games in New Delhi.
The silver queue lengthened further today when the women's hockey team forced extra time before losing their final 2-4 on penalty strokes to defending champions Australia and cyclist Linda Villumsen finished second in the women's 29km time trial on the 10th and penultimate day of competition.
That lifted New Zealand's overall medals haul to 30, among them 20 silver medals to go alongside the three golds won by the sevens rugby team, individual pursuit track cyclist Alison Shanks and Olympic and world shot put champion Valerie Adams.
The young Black Sticks outfit made most of the running in stifling heat after falling behind to an early goal by their trans-Tasman rivals.
A last minute strike from Clarissa Eshuis saw the New Zealanders draw level at 2-2, forcing the game into extra time.
But two extra periods of 7-1/2 minutes failed to separate the sides, and the medal was decided on penalty strokes.
Denmark-born Villumsen, who gained New Zealand citizenship last December, trailed home classy Canadian Tara Whitten by 4.85 seconds over the flat, out-and-back 29km course on a stretch of motorway on the outskirts of New Delhi.
The 25-year-old posted a time of 39 minutes 04.15 seconds for the journey and almost immediately expressed her disappointment at not going one medal better.
"Silver is good but I really wanted to win this one," said Villumsen, a bronze medallist in the discipline last month at the world championships in Australia.
"I'm a bit disappointed in myself."
The two other New Zealanders in the field almost managed top-10 results in the 28-strong field, with Melissa Holt fifth, 23.66sec behind Whitten, and Alison Shanks 10th, 1min 31.41sec off the pace.
A gold medal possibly awaits New Zealand on the lawn bowls greens after Nelson's Val Smith forced her way into the women's singles final later today against England's Natalie Melmore.
Smith, the reigning world champion, beat Australian Kesley Cottrell 9-7 4-8 4-3 in their semifinal, after earlier this week being on the brink of elimination midway through section play.
Men's singles hope Ali Forsyth bowed out one match short of the semifinals, when losing in the first playoff stage 11-2 1-13 3-4 to Australian Leif Selby, just his second defeat of the week after emerging from his section in second place.
- NZPA