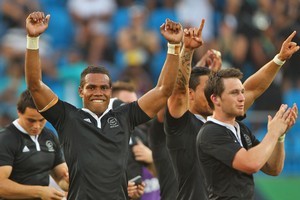 A Commonwealth Games gold in rugby sevens, sweet: beating the Aussies to get it, priceless.
For eight days in Delhi, New Zealanders have had to endure Aussies putting a spoke in the wheel of our cyclists, sinking our swimmers, getting heavy with our weightlifters and taking the stick to our hockey players.
Only losing to Australia in our national game could have been worse, and today DJ Forbes and his boys in black ensured that wouldn't happen, winning the sevens rugby final over the yellow peril 24-17.
And when Kurt Baker taunted the last Australian defender as he scored the try that sealed an epic final, it was possible to forgive him for his joy at notching up one small triumph in a games dominated by Advance Australia Fair.
NZ results in Delhi - day nine
Of the 18 New Zealand athletes who have won silver in Delhi, 10 have had to endure hearing "Australians let us rejoice" as they stood on the podium.
One of those was javelin thrower Stuart Farquhar who won his silver today, while 1500m runner Nick Willis came through an injury plagued year to win bronze, beaten by two Kenyans.
And, of athletes in contention for gold in the last two days of the games, the women's hockey team, netball's Silver Ferns, one squash doubles combination, and the fullbore shooting pair all have Australians between them and the top of the podium.
Crikey, mate.
Sevens coach Gordon Tietjens maintained an unbeaten Games record as his team did him proud. He has been sevens coach since it was introduced to the games in 1998.
It was a brilliant comeback display, as New Zealand fought back from 7-17 down with six minutes remaining, running in three of their four tries in the closing stages.
When Baker scored their last try, it prompted wild celebrations from his teammates while the Australians collapsed to the turf.
But elsewhere normal transmission resumed, as the men's Black Sticks were pushed into the bronze medal match when bashed 2-6 by Australia, and Farquhar was beaten into second by Jarrod Bannister from you guessed it.
Farquhar was more miffed about the officials than about losing to Bannister, who he embraced joyfully at the end.
He was stunned when his second throw flashed up on the scoreboard as 72 metres, when he saw it land beyond 75m. He remonstrated with the officials, who said nothing was wrong, but suddenly the correct distance appeared.
"I don't know how this sort of thing happens, I guess it's India," Farquhar said.
The person with most to gain from the error was an Indian athlete, who finished third.
Fullbore shooters Mike Collings and John Snowden shot themselves into medal contention even though also beset by technical difficulties, when the electronic targets went haywire, not recording shots, or recording them incorrectly.
Collings had to reshoot his entire singles series due to the malfunction, overcoming any annoyance to post the second best score of the day.
With one day to shoot he and Snowden are second behind a pair from well, you can guess where they're from.
Willis ran the same canny way he did for Commonwealth gold in Melbourne in 2006, and Olympic silver in Beijing.
Perfectly placed to the turn, he was unable to run down Kenyans Silas Kiplagat and James Magut.
"I had high hopes of courseexpectations that I could medal, and bronze was probably the best I could do," he said.
"After my last two years I am delighted to be just healthy again and racing."