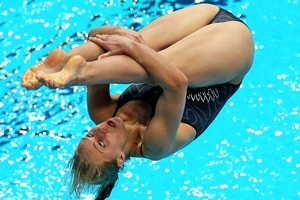 New Zealand results on the ninth day of competition at the Commonwealth Games in New Delhi today:
ATHLETICS
Men's 1500m final, Nick Willis 3 minutes 42.38 seconds 3, Adrian Blincoe 3:44.47 10. Men's javelin, Stuart Farquhar 78.15m 2.
BOWLS
Men's singles, group matches, Ali Forsyth lost to Sam Tolchard (England) 5-7 5-13, bt Munokokura Pita (Cook Islands) 11-9 12-6, bt Michael Rive (Jersey) 9-3 14-2 (qualified for playoffs); women's singles, group matches, Val Smith bt Farzana Khan (India) 14-3 8-6, bt Ali Merrien (Guernsey) 9-5 13-5, bt Carmela Spiteri (Malta) 11-2 8-5 (qualified for playoffs).
DIVING
Women's 1m springboard, qualifying, Gabrielle Armstrong-Scott, 222.50 points 11th (qualified for final), final, 228.45 points, 11.
GYMNASTICS, RHYTHMIC
Team competition, 207.725, 4th. Individual, Mereana Rademakers 82.825, 15th, Keziah Oliver 81.975, 16th, Kimberley Robson 81.375 17th (Rademakers and Oliver qualified for individual all-round final).
HOCKEY
Men's semifinal, New Zealand 2 (Blair Hilton, Phil Burrows) Australia 6. Halftime: 0-3.
NETBALL
Semifinal, New Zealand 59 Jamaica 43.
RUGBY SEVENS
Quarterfinal, New Zealand bt Wales 31-10, semifinal, bt England 33-12. Final, New Zealand 24 (Lote Raikabula, Sherwin Stowers, DJ Forbes, Kurt Baker tries; Baker 1 con, Stowers 1 con) bt Australia 17 (Lachie Turner, Luke Morahan, James Stannard tries; Stannard 1 con) HT 7-10.
SHOOTING
Women's 50m prone rifle singles, Sally Johnston 586/600 9th, Julie Etherington 587/600 11th; men's 50m rifle prone pairs, Ryan Taylor/Adrian Black 1166/2000 8th. Men's fullbore rifle pairs, 4th of 5 days, Mike Collings/John Snowden 445/450 2nd. Men's fullbore rifle singles, 4th of 5 days, Collings 325 5th, Snowden 320 16th.
SQUASH
Mixed doubles, quarterfinal, Joelle King/Martin Knight bt Jaclyn Hawkes/Grayson Campbell 11-6 11-9, semifinals, bt Nicole David/Ong Beng Hee (Malaysia) 11-7 11-10. Women's doubles, semifinal, Hawkes/King bt Lisa Camilleri/Amelia Pittock (Australia) 5-11 11-5 11-5.
TABLE TENNIS
Women's doubles, quarterfinal, Yang Sun/Jenny Hung lost to Vivian Tan/Peri Campbell-Innes (Australia) 9-11 11-7 10-12 7-11.
- NZPA