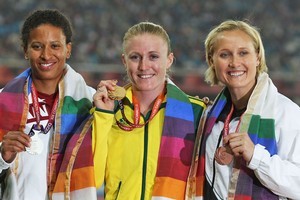 It is entirely appropriate that hurdlers should have up and down years, but not in the way Andrea Miller has.
A brief inventory of her mishaps include:
- The diagnosis of degenerative discs in her back that could require surgery before the year is out;
- Concussion and a re-set broken nose from running into a plate-glass door;
- Missing the team's training camp in Hong Kong when her flights were cancelled, leaving her stranded in Cairns.
On the plus side there's a priceless bronze medal hanging around her neck after finishing third in last night's 100m women's hurdles final.
"I've only had two races prior to the Games due to injury... so I'm absolutely rapt."
Miller described her injuries as "long-standing lower back issues", so it was left to her coach - Sharon Hannon, who also coaches gold medal winner Sally Pearson - to colour between the lines.
"She ran into a plate-glass door when the power went off and was concussed for two weeks and wasn't allowed to do anything," Hannon, who believes Miller's next step is to go sub-13s, said.
"She wasn't allowed to create pressure so she couldn't swim, cycle, do anything."
That was in June.
"Then she went back to the specialist who said, 'Oh, your nose is broken'."
Miller asked if it was a problem and was told she would not sleep well.
Eilte athletics and sleep deprivation have never been great companions.
She was booked in for surgery the following morning.
"That was another two weeks where she couldn't do anything. To come back from that, yeah."
Miller, 28, is based on the Gold Coast where she trains with Pearson under Hannon. She was due to leave for Hong Kong in late September to join her teammates, but was a victim of Virgin Blue's computer crash, which stranded 50,000 passengers and affected 400 flights.
"I went back to Brisbane, prepared myself mentally and flew straight to Delhi.""
Asked what she was thinking as she took her place on the blocks, Miller quickly got to the nub: "Run like hell."
That didn't really happen off the blocks and over the first flights.
"I was actually a bit slow to get going, but I'm absolutely rapt with how I came home. My finish is my strength and I showed that tonight," Miller said.
"She came from friggin' last," Hannon exclaimed.
Miller said she knew she had run well - her 13.25s is a season best - because she crossed the line having no idea where she was. When she can block out everything around her, she knows she is in the zone.
---
Monique Williams finished sixth in last night's 200m final that had been delayed from the previous evening.
The Tokoroa sprinter finshed in 23.71s, .82s behind Cayman Island winner Cydonie Mothersill.
Williams would not say wherher she would have finished faster had she been in a more advantageous lane.
The 25 year old drew the outside lane, despite qualifying fifth for the final, a placing that would normally see her in lane eight or three.
"It's my job and I'm I'm meant to get on with whatever is put in front of me," she said.
She did admit she was mentally exhausted by the delays caused by the protests of a Cypriot runner.