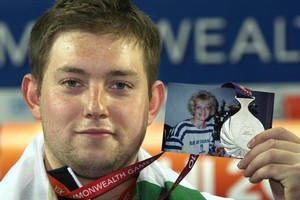 As Stanislav Chalaev stood on the dais with a Commonwealth Games weightlifting silver medal around his neck his mind was a whirl of emotions.
The bare bones story of his night at the Jawaharlal Nehru stadium arena is that the 23-year-old Auckland student came second in his 105kg class, with a personal best score of 334kg.
He'd been fancied to do well, maybe even medal, but it was a tough division. So even in ordinary circumstances his would have been a noteworthy performance.
But there was nothing ordinary about this night. With Chalaev it's the back story which makes yesterday's events so special, both heart-warming and heart-wrenching.
Born in Siberia, he came to New Zealand with his mother Larissa Reid when he was 12. It was the start of a new life.
He spoke no English, "only hello", but found a language he understood and enjoyed when he started weightlifting soon after arriving in Auckland.
Richie Patterson, who also won a silver medal earlier in the Games event, was his early mentor.
All was well until mid-last year when his mother died.
She had been the rock in his life. The Games had been his focus. Things could have gone badly awry.
But they didn't.
"When his mother passed, we were there trying get him through it," his coach Adam Storey said.
"It was a tragic time, and we didn't think he'd be able to bounce back."
Instead, supported by his friends in the weightlifting fraternity and his partner's family - he has none of his own in New Zealand - he drew strength from a crushing experience.
"Everyone's got ups and downs," he said. "It's just a matter of picking yourself back up and doing what you want to do.
"You've got a choice, you can go either that way, or step up and achieve your dreams."
On the dais, Chalaev clutched a photograph of his mother. While the Samoan national anthem was being played for gold medallist Niusila Opelogo, and the three medallists' flags slowly raised, Chalaev looked up to the heavens.
"I was just happy that I came away with a medal, and I was thanking my mum for giving me a lift when I was lifting."
Outwardly, he fought to keep his emotions in check. At the front of the stage, Storey was squeezing out enough tears for both of them.
"I just burst into tears like a baby.
"Holding a picture of his mum on the dais, that's forever going to be burnt into my head."
Chalaev dedicated the medal to his mother and all those who have helped him since she died. He calls New Zealand his "second home", after all he's been here half his life.
He has never been back to Siberia, but hopes to visit family and friends soon. Then there's the post-graduate degree in human nutrition to pick up after taking a break to prepare for the Games.