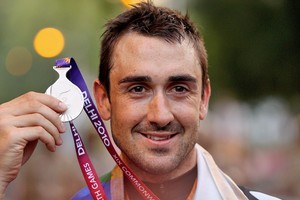 Olympic silver medallist Hayden Roulston added a Commonwealth silver to his collection, this time on the tarmac, in a dramatic finale to tonight's road race.
The Ashburton pedaller was beaten to the line by - you guessed it - an Australian. Allan Davis, one of the sport's great finishers, had the best legs in the final 500 metres, passing Roulston and Scotland's David Millar.
The race around Delhi's streets was won in 3h 49.48m, the time given to the first three finishers.
Commonwealth Games medal tally
NZ results in Delhi - day seven
The New Zealand team gave Roulston every chance, launching wave after wave of attacks that sapped the energy from the sprinters' legs, including the great Mark Cavendish who finished seventh.
"I'm rooted," Roulston said. "The day almost went to plan. Gold would have been the icing on the cake, but I'll take silver.
"I was beaten by the guy who was third in the world last week. These guys are the best in Europe let alone the Commonwealth so a podium is great.
"Jack [Bauer] did amazing. I controlled the boys out there and everyone stuck to their guns."
Gordon Macauley, 37 and the only amateur in the New Zealand team, went out early with Northern Ireland's David McCann.
They made it through to the three-quarter mark before a small chasing group that included Roulston and Bauer caught them. Amazingly, both McCann and Macauley stuck with the leaders until the end, with the New Zealander finishing eighth.
They were soon joined by some of the giants of world cycling, among them Isle of Man's Cavendish, Millar and Davis.
With 40km to go 25-year-old Bauer (10th) made a break for it. With 20km to go he still held a 30 second break and he suddenly became a problem for the chasing pack so they went for him.
With one 14km lap remaining, a group of eight riders could have won it, halfway around the lap the group dramatically split in two, with Roulston one of the leading group of four. They had the fate of the race in their hands, with Cavendish and Davis, the best sprinters in the race, falling off the back.
The front four could not decide how to split the workload, however, and Davis was able to jump back into contention.
Australia now held the whip hand, with two in the five and Chris Sutton perfectly positioned to lead Davis out in the final straight.
"When I jumped I thought I might have boxed Davis in and I thought I might have had him," Roulston said. "I just didn't have enough juice in the tank."