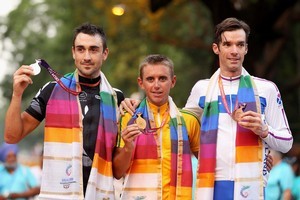 New Zealand results on the seventh day of competition at the Commonwealth Games in New Delhi today:-
ATHLETICS
Women's 100m hurdles, heats, Andrea Miller 13.35sec 4th fastest; women's high jump, final, Elizabeth Lamb 1.78m 6th; women's 200m semifinals, Monique Williams 23.63sec 7th fastest; women's 800m, heats, Nikki Hamblin 2min 2.82sec 6th fastest.
BADMINTON
Mixed doubles, first round, Oliver Leydon-Davis/Danielle Barry lost to Lei Yao/Chayut Triyachart (Singapore) 11-21 10-21, Henry Tam/Donna Haliday bt (Kenya) 2-0; men's doubles, Leydon-Davis/Tam bt Ray Veeran /Jeff Tho (Australia) 24-26 21-14 21-19; women's doubles, Haliday/Barry bt Anitah Alube/Mercy Mwethya (Kenya); women's singles, Michelle Chan bt Solen Pasturel (Jersey) 21-9 21-10, Anna Rankin bt Susan Ideh (Nigeria) 22-20 21-11.
BOWLS
Women's singles group match, Val Smith lost to Helen Grundlingh (South Africa) 7-11 6-11, Smith lost to Siti Zalina Ahmad (Malaysia) 4-12 4-11, Smith lost to Claire Johnston (Scotland) 8-7 3-13 2-4; women's pairs Jan Khan/Manu Timoti lost to Anwen Butten/Hannah Smith (Wales) 4-12 2-12; Men's singles, Ali Forsyth beat Rob Weale (Wales) 6-8 12-5 3-0.
BOXING
81kg, quarterfinal, Reece Papuni lost to Thomas McCarthy (Northern Ireland) 2-7; over-91kg, quarterfinal, Joseph Parker lost to Tariq Abdul Haq (Trinidad and Tobago) 2-3 on judges' majority decision after bout ended 7-7.
CYCLING
Women's road race, 112km, Joanne Kiesanowski 2hr 49min 30sec (same time as winner) 4, Melissa Holt st 9, Kaytee Boyd st 11, Rushlee Buchanan 2:49.38 23, Catherine Cheatley st 25, Linda Villumsen st 26; men's road race, 168km, Hayden Roulston 3:49.48 2, Gordon McCauley at 3:50.57 8, Jack Bauer 3:52.37 10, Sam Bewley did not complete race, Marc Ryan did not complete race, Clinton Avery did not complete race.
HOCKEY
Group match, New Zealand 1 (Hayden Shaw) Canada 1.
NETBALL
Pool match, New Zealand 97 Barbados 22.
SHOOTING
Men's 25m centrefire, Alan Earle 567/600 11th, Greg Yelavich 561/600 17th; men's trap, Myles Browne-Cole 119/150 points 13th, Allan Sinclair 116/150 16th; men's fullbore pairs, John Snowden/Mike Collings 4th after day 2; fullbore rifle singles, Collings 169/170 7th after day 2, Snowden 169/170 10th after day 2.
SQUASH
Women's doubles, pool match, Jaclyn Hawkes/Joelle King bt Lisa Aitken/Frania Gillen-Buchert (Scotland) 11-5 11-4, Tamsyn Leevey/Kylie Lindsay lost to Kasey Brown/Donna Urquhart (Australia) 11-6 9-11 11-8; mixed doubles, Martin Knight/King bt James Willstrop/Jenny Duncalf (England) 11-9 11-5, Campbell Grayson/Hawkes lost to David Palmer/Donna Urquhart (Australia) 4-11 2-11, Grayson/Hawkes bt Michael Rucklinger/Barbara Stubbings (Papua New Guinea) 11-4 11-2.
WEIGHTLIFTING
Women's 75kg plus, Tracey Lambrechs snatch 99kg, clean and jerk 127kg, total 226kg; men's 105kg, Stas Chalaev snatch 150kg, clean and jerk 184kg, total 334kg 2.
WRESTLING
Men's qualifying rounds, 66kg, Andrei Paulet lost to Romeo Joseph (Nigeria), 84kg, Steve Hill lost to Sean Keogh (Scotland), 120kg, Nick Lane bt Varntan Aparian (Cyprus); quarterfinals, Lane lost to Arjan Bhullar (Canada).