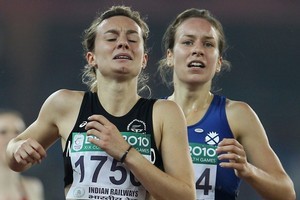 By her coach's account, she's a bit of a nightmare before a race - she can't eat, she's terse and the blocked toilets at the competition venue certainly weren't doing her any favours.
But after watching her complete a "perfect" championship 1500m, you wouldn't want to go changing too much about Nikki Hamblin.
The Cambridge runner, 22, who got residency to run for New Zealand only last year, challenged Kenya's Olympic champion Nancy Lan'gat down the home straight before finishing second in Friday night's 1500m final.
It was a happy ending to a tough month where she has waged a war against the heat, the inability to hold any food down after racing and, at times, her coach.
Chris Pilone, formerly behind gold medal and world champion triathlete Hamish Carter, admits the relationship with his student is fractious.
"She's pretty feisty, she's a good competitor though," Pilone said. "This year, for both of us, it's been hard work.
We've been at loggerheads a few times, but I've learnt to pull back a bit and not be judgmental.
"We've managed to hold it together for the last part of the year but it certainly hasn't been a cruise by any means."
Hamblin described herself as "quite laid back and easy going in the real world," but admitted she could be tough on and around the track. Mind you, it is a two-way street.
"I've been travelling with Chris pretty much for five months. We have had short breaks from each other but living in each other's pockets like that, you're going to clash with anyone.
"At times he finds me pretty hard and at times I find him pretty hard. Chris sulks a little bit. He lets me have the last word then goes away and sulks for a couple of days," she joked.
"Luckily in Hong Kong we had [fellow 1500m athlete] Paul Hamblyn there who provided a bit of a buffer. That worked out pretty well."
In Hong Kong for the best part of a month to acclimatise, Hamblyn, who finished fourth in the 1500m in Melbourne four years ago, took over the tactical planning of Hamblin's race.
He couldn't have done a much better job. Pilone described it as a "perfect" race and Hamblin believed she had done everything she could to win, the Kenyan was just too strong at the finish.
"I knew when I was running that I was in a good place at a good time," Hamblin said.
"I thought maybe in the last 100m they would start to come around me but I carried on fighting. I don't think I could have done anything better tactically," she said.
The race was slower than expected through the first three laps but the heat came on, especially in the final 300m.
"We actually picked it to be a fast one, but it was only 2m 16s at 800m and when she set the NZ record she ran 2m 11s at the 800m," Pilone said. "It was a bit of a charge over the last four or five hundred but she ran a perfect tactical race.
"She ran 45.9s for the last 300m so it's a 61s, 62s last lap.It is just outside the national record which, considering the slow pace, is a very good run."
The finishing pace took its toll. Hamblin, who completed the race in 4m 05.97, was prone on the track afterwards and then deposited the contents of her stomach trackside.
"I did two track sessions in Hong Kong that ended in similar ways to what happened last night: me lying on the ground not really being able to move and five minutes later spewing up everything I'd eaten during the day.
"I'm used to it. I expected it and if I hadn't been like that, I would not have run hard enough."
Hamblin, who is the first New Zealander to win a medal on the track since Barbara Moore in 1990 and the first in the 1500m since Lorraine Moller in Brisbane 28 years ago, has had to jump through some significant hoops to get residency and compete for her adopted country.
"I'm proud to be a Kiwi and to run in the black singlet. It's definitely been worth it."
"The only other 1500m success was Lorraine Moller in Brisbane in '82, and I know Anne Audain won the 3000m there." Hamblin races in the heats of the 800m tonight. With the pressure of winning a medal off her shoulders, she expects she will approach the event in a relaxed state, something that will no doubt be music to Pilone's ears.