The highs and lows of another week on Planet Sport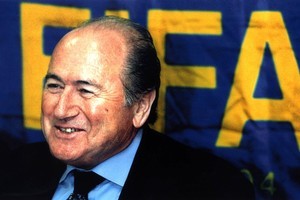 Never let it be said that Fifa president Sepp Blatter forgets the little people. Soccer's top man has overseen a £16,000 donation to former Togo goalkeeper Kodjovi Obilale, who was left unable to walk after he was shot during the Africa Cup of Nations in January. "I wish you a lot of courage," Blatter told Obilale, who has lost his livelihood and is left with £100,000 in medical bills.
Bladder's pockets ran deeper in June, when he signed off on £170,000 bonuses to Fifa's 208 national associations - nothing at all to do with next year's Fifa elections. "Call it a gift!" said Blatter. "We are a united and happy football family!"
How the boot flew
Ryan Giggs has a book out and, in the an interview with The Observer, he reveals all about Bootgate, the day Sir Alex Ferguson clocked David Beckham with a flying boot in the changing room.
"Becks used to change next to me, so it just flew past me." Was it a hard shot? "It was unbelievable.
Unbelievable. You couldn't do it if you tried a million times." Where did it hit Beckham? "Just on the eye."
And the mood in the changing room?
"What you've got to realise is that footballers, and me in particular, have seen everything in the changing room. Everything. I've seen the manager kicking off with the players, the players kicking off with him, players fighting each other, managers fighting, everything."
Honourable mention
Frank Duckworth and Tony Lewis feel vindicated. The number crunchers have been appointed members of the Order of the British Empire in the Queen's birthday honours list in recognition of their services to cricket.
Duckworth says: "I hope this award demonstrates to the outside world that the country believes we have made a useful contribution to the game - a lot of people haven't actually realised we are actual people."
Daniel Vettori might scratch his head at the award. On the day the pair were honoured, New Zealand lost to Bangladesh when the D&L method took them from needing 229 to win from 50 overs (4.58rpo) to needing 210 from 37 overs (5.67rpo).
Lose lips
Another gem from Willie Lose. The RadioSport host hit the nail on the head when addressing the prospect of teams withdrawing from the Commonwealth Games and even the possibility of the whole event being cancelled.
"The Commonwealth Games have never been cancelled," Loose Bill opined. "Even with the '72 Munich disaster and the boycotts of '76 ..."