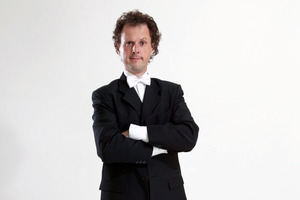 A top international comedian has hit out at the NZ Comedy Festival, angry that he's lost thousands of dollars and that promoters charged him a fee to send out a promotional email.
Rainer Hersch is advising other international acts to stay away from the event after very few people turned up to watch his shows.
Hersch is a popular musician and comedian in Britain and has toured Europe for almost 20 years. He was picked to be a drawcard at the New Zealand festival but after a week of playing to desperately low crowds, he hit out at promoters and says it wasn't worth the cost of getting here.
Hersch took to his website to vent, saying: "After a weekend that looked full of promise for a growing audience, on Monday evening I played to 27 people in a venue that seats 240 - 360 if you count the balcony.
"That wouldn't happen in Edinburgh - twice as wet and where a Monday evening really does make you feel like slitting your wrists."
He said he had lost more than $10,000 just travelling to take part in the festival and couldn't believe the cost of hiring equipment, instruments, accommodation and venues.
Hersch then fired an attack at The Edge. "Just as I was choking on my flat white about the impending disaster, my venue (The Edge, which runs the Town Hall) has the temerity to ask for $300 to do an emailing to promote my show - an emailing!
"Never before - and I include the major concert halls of the world whose boards I have been permitted to tread - have I been asked for money to press the return button on a computer keyboard."
On his Twitter account, Hersch added that he "tried to buy a ticket for my own show at Auckland Town Hall today. Gave up. Website disaster. $5 web booking fee - disgrace".
New Zealand Comedy Trust managing director Kylie Sealy said the $300 charge from The Edge was a standard direct marketing fee that gave access to targeted databases.
Ms Sealy said the trust, which ran the festival, promoted the overall event and provided marketing, publicity and promotional assistance for shows. However, it was up to the individual shows to undertake their own marketing campaigns.
"It's unfortunate Rainer Hersch has not had the season he was hoping for in New Zealand, as it's a world-class show that audiences who have attended enjoyed," she said. "Overall ticket sales for the festival are tracking above 2012. Last night there were 17 sellout shows in Auckland alone, and many shows added extra performances due to public demand."
* Read a full review of Rainer Hersch's show here.