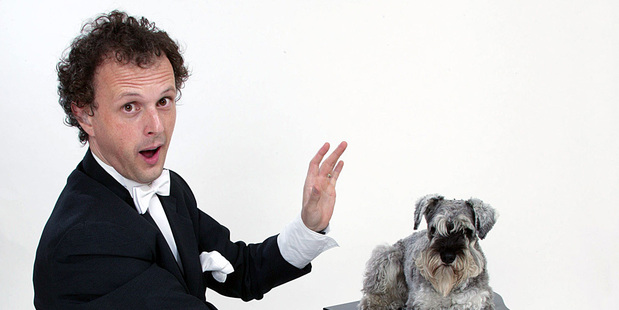 Stand-ups use familiar old material at their peril. Lifting routines from other comedians? Also frowned upon. By those standards Rainer Hersch's Victor Borge should be run out of town, his long tuxedo tails flapping behind him.
Because this performer, who is half-English half-German - "Any German people here? Comedy show. Hardly likely" - does both.
But his homage to Victor Borge isn't just a cover version of the late great Dane and those ivory- and rib-tickling routines which took him from Copenhagen to Broadway to television-powered international fame through the 50s, 60s and 70s.
No, it's part one-man theatre piece, part live biography, part stand-up, part sit-down piano bash and totally terrific.
Yes, it does help if you've heard of Borge, who in his heyday was to comedy what Scandinavian near-neighbours Abba were to pop. This is being written by someone who interviewed Borge on his final New Zealand tour and barely got a question out due to being rendered a starstruck seven year-old by his memories of his tv shows decades before.
But it's not an absolute requirement and looking back now through Hersch's eyes, it could be said Borge, was a man ahead of his time. His phonetic punctuation? Text language in its infancy, surely. Grafting Happy Birthday and Chopsticks into Moonlight Sonata ? Borge was clearly the first master of the mash-up.
Actually, Hersch, who plays Borge complete with accent as well as stepping out of character to narrate his life story, reminds us that phonetic punctuation routine was stolen from a Norwegian writer who sued, only to die before the case was settled.
As Hersch-as-Borge says to Hersh-as-narrator: "Give me a break Hersh, you knicked this entire performance!" Borge fans should feel free to read that last sentence using phonetic punctuation then ROFL.
This is also a show that proves a couple of things. The adage that talent borrows and genius steals, for one thing. And that (whisper it) reviewers can be useful.
Because as Hersch explains, he only started considering the Borge mind meld after critics started comparing his own classical music comedy to the old master who he had never heard of. His interest piqued, he eventually met his new comedy hero, resulting in some hilarious photographic evidence of the encounter.
On one level this show is a don't-tell-'em-like-they-used-to salute, with Hersh deftly executing some of Borge's most memorable piano gags, his upside down Blue Danube and Tchaikovsky's Piano Concerto No. 1 being delivered misplaced note for misplaced note.
On another, it's an engrossing piece of biography with Hersch interweaving the story of Borge's very big 20th century life with as much pathos as humour.
There is still plenty of Hersch's own take on the classical music world, ranging from an impersonation of Canadian concert pianist Glenn Gould's mad ecstasy at the keyboard that suggests itself as a future arts fest show, to an encore that fixes the usual problems with opera - not enough jokes, can't understand the lyrics - in a hilarious blur of cue cards.
This opening night of Hersch's season was remarkably under-attended. Maybe that was because many of the city's classical buffs - some of whom who might owe Borge for their interest - were next door at the Auckland Philharmonia concert. Hersch teams up with the APO at the end of his season for some orchestral shenanigans. But his solo Borge really is the one to see first.
What: Rainer Hersch's Victor Borge
Where: Comedy Chamber, Auckland Town Hall
When: Friday, May 3 and Saturday, May 4, 7pm; Sunday May 5, 3pm; Monday, May 6 to Sat May 11, 7pm.
Also: Rainer Hersch & the Auckland Philharmonia Orchestra, Sunday May 12, 3pm
- TimeOut