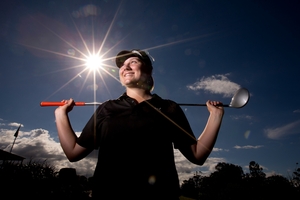 Elanor Grimwood would one day like to emulate Lydia Ko in bursting on to the international golf scene. Already, the teen known as Ela to family and friends has a couple of things going for her in such a lofty pursuit.
Like Ko, Grimwood was born outside New Zealand but now calls her adopted country home, proclaiming: "I'm a Kiwi." Also like Ko, she spent her early secondary school years at Albany's Pinehurst School.
Nowadays she is at Northcote College and, like Ko, getting the marks that make her a good student and is really happy and popular in the environment.
Like Ko, she is a member at the Gulf Harbour Country Club although she also has memberships at Peninsula, Pupuke and Muriwai.
"I saw Lydia a couple of times when I was at Pinehurst and have seen her at Gulf Harbour but I haven't met her. Gulf Harbour is a real challenge," said Grimwood, 14, who has fired a six-over 78 for the 5300m women's layout.
"I probably play there once or twice a week, usually at the weekends. During the week I go to Pupuke or the driving range."
Sometimes she plays from the men's tees and rates the 309m par four 12th as her favourite hole.
Born in Essex, England, she came to New Zealand as a 6-year-old when her father was transferred while working for IBM. Initially the family lived in Tauranga where she first had a golf club in her hand when her uncle took her to a driving range.
Grimwood then linked with the Omanu Golf Club and coach Nick Wilson who oversees what is considered a very good junior programme.
"We came to Auckland three years ago when I was on a 12 handicap. Nick is still my coach," said Grimwood. "I talk to him on the phone and go down there a couple of times a month for the day."
Now on a three handicap, Grimwood shot the low round - a three-under in Rotorua in a recent junior inter-provincial tournament in which her North Harbour team finished seventh.
After giving up swimming - tiring of the early starts - Grimwood devotes her energies to golf with the hope of one day turning pro. Before that she has another three years at Northcote College where she hopes to find another player to join the school's mixed team which might be one short with one of this year's team in his last year.
Results
Baseball
Junior Open, pool one: Kings 14 AGS 13. Pool two: Glendowie 11 Botany Downs 1.

Cricket
Auckland
Premier two-day championship, round four (day one)
Sacred Heart 81 (Ross ter Braak 5-25) v WBHS 196 (Mitchell Atkins 79; Aston Avery 4-28).
MAGS 240 (Aditya Dhadwal 67, Aniket Parikh 47, Amit Dhadwal 37; Henry King 3-20) v AGS 49/0.
St Kentigern 282 (Daniel Young 78, Blue Hamel 42, Aditya Edekar 34, Anubhav Thapa 34; Josh Hilton Jones 5-57) v Rosmini 33/6 (Lachlan Walker 3-5).

Premier two-day plate
KBHS 153 v Macleans 106/8.
St Peters 54 (Tyron Carter 4-5) v Rangitoto 187/9 (Nathan Banks 43no, Felix Dewe 36; C Kelly 3-39).
Kings 257/9 dec (Tristan Payle 76, Sam Turner 74; Wynand Classens 3-32, Anas Patel 3-49) v Avondale 13/1.

Girls, premier championship, pool one
St Kentigern 143/4 beat MAGS 58; MRGS 135/2 lost to St Cuthberts 136/3. Pool two, WGHS 107/4 beat Baradene 87/6, TGS 90 beat Glendowie 52.

Lacrosse
Boy's finals
Division one, championship: Michael Park 12, WBHS 6.
Plate, MAGS 8 MRGS 3.
Bowl: St Kentigern 11 St Peters 1.

Softball
Junior Greater Auckland
Girls
Central: MAGS 7 Marist 1; EGGS 12 One Tree Hill 4; Onehunga 9 Selwyn 2; One Tree Hill 15 Marist 4; Lynfield 7 Onehunga 4; EGGS 9 Selwyn 3.
Western/Northern: Green Bay 5 Massey 4; Waitakere 13 Rutherford 2 7; Avondale 8 Waitakere 7; Massey 8 Rutherford 1 4.
Southern: McAuley 13 Pakuranga 3; Aorere 9 Southern Cross 5; Aorere 9 Pakuranga 3.
Boys
Central/Western: Onehunga 11 Avondale 0; Green Bay default to AGS; Massey 5 Waitakere 0; MAGS 14 Selwyn 0. Waitakere 3 AGS 2; Green Bay default to Selwyn; Massey 6 Onehunga 2; MAGS 10 Avondale 1.
Southern: Wesley 12 Southern Cross 1. Aorere 7 Southern Cross 5; Wesley 10 Alfriston 7.

Volleyball
Junior premier
Girls: Manurewa 2 Sir Edmund Hillary 0; Manurewa 2 Orewa 1; Orewa 2 Sir Edmund Hillary 1. Mangere 2 Long Bay 0; Mangere 2 WGHS 1; WGHS 2 Long Bay 0. Otahuhu 2 McAuley 0; Otahuhu 2 Rangitoto 1; Rangitoto 2 McAuley 0.
Boys: Sir Edmund Hillary 2 One Tree Hill 0; WBHS 2 One Tree Hill 0. Orewa 2 Southern Cross 0; Orewa 2 KBHS 0. Manurewa 2 Rangitoto 1; Rangitoto 2 De La Salle 0; Manurewa 2 De La Salle 0.

Water polo
Junior
Boys A grade, pool A, AGS 11 Green Bay 4; St Peters 6 WBHS 4; Green Bay 11 WBHS 8; MAGS 6 AGS 4. Pool B, Rangitoto 11 St Kentigern 3; Sacred Heart 8 Kristin 0.
Boys B grade, pool C, AGS B 7 Parnell 4; St Peters B 7 MAGS B 2. Pool D, Long Bay 9 TGS 1. Pool E, Rutherford default to Avondale; Western Springs 5 Liston 1. Pool F, Sacred Heart B 16 Glendowie 1; St Kentigern B 6 Macleans 0.
Boys C grade, pool G, Kings 6 AGS C 5; Lynfield 8 MRGS 5; Sacred Heart 16 Massey 0.
Girls A grade, St Cuthberts 8 Diocesan 5; WGHS 15 Marist 1; St Marys 7 Baradene 1.
Girls B grade, MAGS 17 EGGS 0; St Marys 6 Western Springs 2; MAGS 8 Green Bay 0.