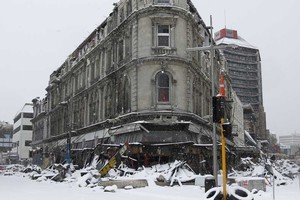 Demolition work is being carried out on around 100 buildings in quake-stricken Christchurch's central business district red zone, but there is much to do and safety is top priority.
Civil Defence planning and transition director Baden Ewart said today that work was being done as fast as possible.
"Our number one priority is safety," he told media today.
"We have enough machinery working - any more would create safety issues. We made a call early on not to work 24/7. If we carried on through the night we would have to remove the debris and transport it to Lyttelton at night too and that would give no relief to the people (living) on those roads."
About 20 media representatives joined Earthquake Minister Gerry Brownlee, Canterbury Earthquake Recovery Authority (Cera) chief executive Roger Sutton and Mr Ewart on a tour of the red zone today.
Some areas remained untouched, with piles of shattered glass and bricks covering the pavements. A window display of china, crockery and dinner sets remain undamaged behind a glass window in the Farmers store.
The building and car park is due for demolition which will leave a huge empty footprint.
A lone bell lies next to the rubble of Christchurch Cathedral, waiting to be sent to the original manufacturer for repair.
The Press building's main door and facade still stand but lead only to a nearly empty lot behind. Large claw diggers nibble at the remaining ruins.
Deconstruction of the building is expected to take around seven weeks. As well as demolition, removing rubble and digging out the foundations,there was a lot more going on behind the scene, said Mr Ewart.
"There is a lot of heritage stuff like time capsules in The Press building which need to be recovered."
Entire blocks of the city have disappeared, leaving visitors disoriented without familiar landmarks to get their bearings. Many buildings have already been levelled, gravelled and adjacent buildings waterproofed ready for the next stage of the rebuild.
Many more are awaiting demolition including the Brannigans building on Gloucester Street - the site of Mr Ewart's old office on the 10th floor.
"I have not been in the building since February 22nd and am unlikely to before it comes down," he said.
Cashel Street Mall, once a vibrant pedestrian arcade, is now a construction site. A muddy track replaces the former tram track and is surrounded by large empty lots, skip bins and rubble filled trucks.
Preliminary work has begun on the buildings adjacent to the Hotel Grand Chancellor. A 120 metre crane looms above the 72m building.
Mr Brownlee said he was pleased with the progress being made.
"The amount of activity has been quite considerable in the last couple of weeks. I am pretty happy with the way things are going. We couldn't cope with much more truck movement (in the CBD)."
Buildings such as The BTZ building next to the Bridge of Remembrance are a work in progress with their interiors spilling out as the walls are removed revealing the labyrinth of cables pipes, insulation and pillars much like the veins and skeleton of the human body.
Other buildings are trying to retain a snippet of their original identity. St John's Church in Latimer Square is being carefully demolished to try to retain its original heritage. The Excelsior Hotel on Manchester Street will retain its original facade.
The fate of some buildings, such as PricewaterhouseCoopers and Vero, is not yet known.
Mr Sutton said that although saddened, he was in awe of some of the buildings that remained standing.
Meanwhile Kaipoi residents can expect to have a decision on their land in the next three to four weeks.
Authorities sent them letters today outlining expected time frames for each affected area.
"It is a big decision for the Government to make and a big decision for residents to decide what to do with those offers," said Mr Brownlee.
He said the investment in Christchurch as a future destination was starting to ramp up.
"We haven't seen the sort of depopulation that was initially expected. A lot of Cantabrians are making the commitment to stay in Christchurch.
"That's fantastic and we want to continue supporting them."
- NZPA