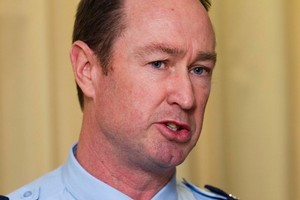 An independent engineer's report has been commissioned on Christchurch's central police station to reassure officers of its safety.
And police are working on plans for a new station that may be located in a different part of the city.
The building, on Hereford St in the CBD, did not suffer any major or structural damage after the February 22 quake or last week.
Although some central-based staff were deployed to other suburban stations over the past few months to bolster numbers, many remained working at central.
Most staff are now back at central, but some are nervous about what may happen to the 13-storey building if another huge aftershock hits.
One officer, who spoke to the Herald on the condition of anonymity, said staff were "terrified" to go back.
"A lot of people, and not only police personnel but non-sworn staff too, are s******* themselves about going back," he said.
"I feel sorry for them. A guy in the building during the quake on Monday thought the floors were going to start coming down. And three female staff were in tears, they're absolutely s******* themselves. They do not want to go back into that building."
Police Association president Greg O'Connor said he was aware some staff had concerns about going back to work at central, and everything was being done to reassure them that they would be as safe as possible.
"Essentially, the situation at Christchurch central reflects the situation in Christchurch as a city - people who would clearly [rather] not be there at the moment," he said.
"We've got consultant engineers to review the work that's being done at central so we give reassurance to people.
"We're waiting for our own engineer's report and we expect that in the next few days."
Canterbury District Commander Superintendent Dave Cliff said two engineers had independently confirmed that the central station had come through last Monday's aftershock "in sound structural condition" with no sign of new structural damage or additional stress on the building.
Mr Cliff recognised some staff were anxious about working in the building.
"However, full inspections from two engineers have confirmed the police station's structural integrity is sound and that it is safe to occupy," he said.
"Aftershocks are an unnerving experience for anyone. The safety of staff working in the building is paramount."
Mr Cliff said: "I've reassured our people that if there was even a hint of any structural risk then we would be vacating the station.
"It takes time for people to deal with anxiety, and everyone reacts differently ... No one is being forced to work anywhere where they feel they can't cope.
"We'll continue to keep staff informed, and encourage them to talk with supervisors about their concerns."
He confirmed the station had suffered some superficial damage, including to plaster and concrete panels. "But it remains fundamentally sound. I've not seen any information that gives me concern about the safety of the building."