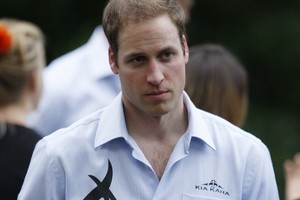 Prince William will address the thousands of people expected at next week's national memorial service for the victims of the devastating Christchurch earthquake.
St James's Palace today announced the prince will attend the March 18 service at North Hagley Park on behalf of Queen Elizabeth II, and will also visit Greymouth to speak to the families of the Pike River Coal mine disaster.
Prime Minister John Key told reporters today that Prince William would speak at the memorial service.
"This is a heart-warming gesture that will mean a lot to the thousands of people whose lives have been forever changed by these events," Mr Key said.
"I think all New Zealanders will appreciate the gesture from The Queen to ask Prince William to come down. It's a very important step that he's taking because it shows you the international feeling for Christchurch and Cantabrians."
Mr Key said it would mean "an awful lot" for the prince to make the long trek from Britain to take part in the service.
"He has a real love of New Zealand, as does his grandmother, and I think it's a very nice gesture that he's coming out."
Mr Key said he had known for a week that Prince William would attend, and the timing of the service had been coordinated with the prince's planned trip to Australia.
"We started looking at our timing for the memorial service, it all seemed to tie together so it's working well."
Mr Key said Labour leader Phil Goff would also speak at the service.
"This is an event to commemorate what is an enormous tragedy for the people of Christchurch, so it's appropriate that the leader of the opposition gets to speak," he said.
The prince will arrive in New Zealand the day before the service before flying to Australia on March 19, where he will visit parts of Queensland hit by the recent cyclone and flooding.
A spokeswoman for Mr Key said Price William's fiancee Kate Middleton would not come.
Prince William last visited New Zealand for three days in January last year, when he opened the new Supreme Court building in Wellington.
The full itinerary for the visit will be released closer to the time.
The spokeswoman said the prime minister still planned to attend the royal wedding at Westminster Abbey on April 29.
- NZPA