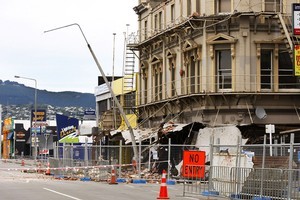 Fire crews in Christchurch are inspecting buildings damaged by today's series of aftershocks.
Chief Fire Officer Dan Coward said a significant number of buildings had been damaged but most of those had also suffered damage in the September earthquake and subsequent aftershocks.
Mr Coward said fire crews were working from a list of about 20 buildings they were particularly concerned about.
This afternoon, police removed some of the cordons put in place following this morning's aftershocks.
Two blocks of the central city, bounded by Oxford Tce, Lichfield St, Hereford St and Colombo St, were initially cordoned off as a precaution.
Cordons on Colombo St and Oxford Tce have now been removed, however the stretches of Hereford and Lichfield streets between Colombo St and Oxford Tce remain cordoned off and there are restrictions in place on Worcester Street between Oxford Tce and Manchester St, and on Gloucester St between Colombo St and Latimer Square.
City Mall, between Oxford Tce and Colombo St, is also closed.
The largest of this morning's aftershocks measured 4.9 on the Richter scale and struck at a depth of 12 kilometres, within 5km of Christchurch at 10.30am.
GNS Science said it was widely felt in the Canterbury region.
Christchurch City area commander Inspector Derek Erasmus said there had been some damage to buildings in the inner city and that the focus was on public safety.
"We are reassessing the cordons on an hourly basis, and will take advice from the City Council and the Fire Service who are conducting assessments on buildings," he said this afternoon.
"Where any buildings are assessed as a potential risk we will make sure those buildings are fenced off, and then re-open streets as soon as we can.
There were no reports of injuries, despite the earthquake happening midmorning on one of the busiest shopping days of the year.
Water, wastewater and stormwater networks were undamaged, and power had been restored to about 40,000 properties by midday although some traffic lights were not working properly.
A 65-year-old man was arrested and charged with obstruction and aggravated assault on a police officer after refusing to leave the cordoned area. He was due to appear in court this week. Otherwise, people had taken the disruption in their stride.
"Principally we've had some bricks and glass coming off buildings, and because it's not the middle of the night like the original earthquake we're having to make sure people are safe in the city," Mr Erasmus said.
"We're also very aware that there's a lot of retailers out there hoping to make a bit of money today, they've gone through tough times in the last few months ... but the primary thing at the moment has to be safety for emergency services and members of the public, so we're just playing it cautiously at this stage," he told NZPA.
"There's lots of people around in the central city, footpaths are full, it's a nice day, people are out and about."
A Civil Defence Emergency Operations Centre was set up at Christchurch City Council's Hereford St building and emergency services were assessing the situation. No major damage had been reported in the suburbs.
Mr Erasmus said 30 police staff were working on cordons and a further 20 staff were being called in this afternoon.
Staffing requirements overnight would be assessed depending on the extent of the cordoned area.
Civil Defence manager Jon Mitchell earlier said the aftershock had caused damage to some building frontages, evacuations and stock damage.
Most of the damage occurred in the central business district (CBD) but hundreds of Boxing Day shoppers were evacuated from one of the city's largest malls, Westfield Mall in Riccarton, were there was "superficial" damage, Mr Mitchell said.
"There have been larger aftershocks but they have tended to be around the city and have damaged usually in-ground infrastructure," Mr Mitchell said.
He advised people to follow evacuation advice and to be careful around building damage.
Residents were also advised to contact emergency services only if necessary.
John Ristau, a GNS Science seismologist, said today's aftershocks were not unexpected and could continue to happen over the next few months.
"This is a bit of a wake up call, to kind of say that you can still get large magnitude aftershocks," Mr Ristau said.
He said the smaller aftershocks which had followed today's quake would likely continue for the next couple of days.
A spokesman for St John Ambulance said they had received a number of calls from people "frightened" by the quake but there were no reports of injuries.
Newstalk ZB reporter Jo Scott said the "very frightening" aftershock was the biggest to be felt for some time.
"We've got pictures off the wall at home, things off shelves, our power is off."
A magnitude 4.2 quake struck at a depth of 5 kilometres, within 5km of Christchurch, at 2.07am, followed by a series of small shocks between magnitudes 2.7 and 3.8 before the 4.9 jolt. There have since been four aftershocks, of 3.6 at 10.35am, 3.5 at 11.53am, 3.7 at 12.34pm and 2.9 at 12.52pm.
The Pacific region has been rocked in other areas as well today with a 5.9 magnitude tremor recorded at White Island and a 7.3 quake in Vanuatu.
Boxing Day aftershocks rock Christchurch

View Boxing Day aftershocks rock Christchurch in a larger map
- NZPA, NEWSTALK ZB, NZ HERALD STAFF