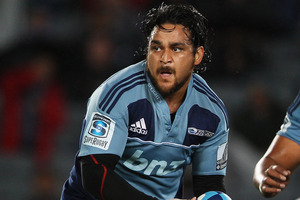 Oh happy days for those of us who are still paid-up members of the Piri Weepu fan club.
Weepu's girth has been the cause of much mirth, and quite rightfully, but he's still the best test halfback candidate and the right bloke to hang on to the No9 jersey until TJ Perenara takes over. Steve Hansen and his mates have got it dead right, keeping Weepu in the test squad announced yesterday.
On one hand, you can understand the vitriol aimed at Weepu because fans feel let down and it is almost beyond comprehension how a professional sportsman can get that big that quick and turn up in the new season looking like a beach ball. There's a feeling Weepu hasn't put the effort in and deserves his comeuppance.
There has been speculation that, having realised during the off-season that he was struggling for condition to put it mildly, Weepu asked to join the Blues earlier than intended but was told by them to stick to his All Black return schedule.
Whether this is strictly on the mark or not, it has to be said that the central contract system allied to the All Black obsession creates this sort of confusion. A major criticism of Blues coach Pat Lam is that he does not come across as ruthless and single-minded enough, so the idea of the Blues not taking the Weepu fitness situation in hand and sorting it out when they had the chance is a feasible scenario.
Beyond the 20-year-old Perenara, who is the future and one of the most exciting inside-back prospects New Zealand has produced, there is an over-optimistic air about the quality of halfbacks in this country.
But Hansen and Grant Fox are probably on the money, resisting the temptation to call Perenara into the test squad quite this early.
Perenara is an amazing talent but there isn't a history of players so young benefiting from having their progress fast-tracked, and he is in his first season of Super 15 rugby. There is also much to be gained by allowing Perenara to concentrate on helping to rebuild the Hurricanes - a strong franchise in Wellington will in turn be good for Perenara's future. But his call-up won't be far away.
The strongly built Perenara has the goods on every level and unlike many of our finest halfbacks he may have the full bag of tricks, which is more than can be said for the challengers to Weepu's position.
Selecting test squads isn't an exercise in determining who are the best Super 15 players. It's about understanding who has true test capabilities that also fit into the coaches' plans.
Handy Andy Ellis is just that - a reasonable fall-back option but not a top-drawer, long-term test prospect.
Aaron Smith, who has a lightning pass, is physically lightweight and will struggle in that department against the test big boys. Smith had a fast start this year but is not keeping up the pace.
Tawera Kerr-Barlow is an enigma. Judging by the terrific stoush between the Chiefs and Blues on Saturday night, Kerr-Barlow is not playing to his strength which involves making instinctive and brilliant runs. He had an okay game, but nothing special.
Weepu, when fit, is a class above that trio. The critics have every right to round upon the round one, but to go into a test series without Weepu or not do everything possible to get him up to speed for the Rugby Championship would have been a mistake. Whatever risk is involved is a risk well worth taking.
Crusaders v Chiefs dream finalThis punter's dream Super 15 final will be the Crusaders v Chiefs. Parochial, yes, for an international competition, so apologies to the South African and Australian contingents.
But the Crusaders were so noble in tragic circumstances last year that they deserve another crack at the title. With all due respect to the champion Reds, the travel and emotional drain of the earthquake aftermath proved too much for Todd Blackadder's side at the final hurdle.
The Chiefs are a revelation. Some of the interplay involving Aaron Cruden, Sonny Bill Williams and co on Saturday night was breathtaking. We awoke to an inevitable headline claiming the Blues had been brave, which is just another insult to a long-time Auckland supporter.
Calling the Blues brave is like telling Goliath he was only a stone's throw away from victory. The Chiefs were the team which did the business and claimed the points in a rugged local derby, not the Blues.
The final weekend of Super 15 rugby before a test break brought terrific action. The Crusaders were brutal in dismantling the Highlanders, who tried to cling on but were swept aside.
The Super 15 is set up for a strong New Zealand finish but there must be some concern that the competition landscape will be seriously affected by the month-long test break. Going on the weekend's events, though, the Crusaders have emerged from a confusing season to be favourites for a first title win since Robbie Deans left.
As for the Australian and South African teams, they have not matched the New Zealand standards for my money. The Stormers are probably the best of the South African sides and good enough to win the title but are to razzle-dazzle what Steve Hansen is to Toastmasters. None of the Aussie teams look contenders.
Point of order Chiefs coach Dave Rennie referred to his punchy lock Mike Fitzgerald as "Fitzy". There will only ever be one Fitzy in New Zealand rugby, the mighty Sean Fitzpatrick. Any other candidate needs to get another handle. On the subject of Fitzgerald, he threw the most genuine punches you will see on a rugby field these days. There wasn't any excessive provocation from the Blues, so one can only assume that Fitzgerald has a temper problem that he should try to sort out for his own sake if nothing else.
Mystery of the season What has happened to Owen Franks? A year ago he was on track to become the game's finest tighthead, and now he can hardly get a start for the Crusaders. Explanations are in short supply. Franks went hurtling in a ruck like a man very frustrated after coming on against the Highlanders.