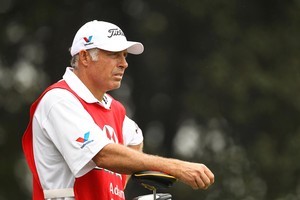 The reaction from within golf to Steve Williams' racist comment in China has been as stunning, in a bad way, as his initial appalling jab at Tiger Woods.
Golf got the wagons in a circle after Williams called his former boss Woods a "black arsehole" at a "private" caddies' function in Shanghai. Williams is out of the woods ... for now.
Apart from the American golfer Fred Couples, who would have sacked a caddie in similar circumstances, golf's mealy-mouthed response is shoddy and raises questions about the game's values and ethics.
Maybe more enlightened comments, and stronger reactions, are yet to come. This issue deserves further scrutiny, attention and action, no matter what the golfing overlords say.
Even Woods played the matter down with his statement yesterday, which is understandable, but a shame. This was the chance to make a stand about something important, although Woods would only have embroiled himself in further controversy had he slated Williams.
That the comment was "hurtful", though, should indicate to Williams and his supporters that it was indeed a racist attack.
While other sports try to root out racism, golf has swept the disgrace under a carpet. A typical reaction came from Australian great Greg Norman, who reckoned: "I guarantee you in that room, that night, there were some heavier things said."
Pray, do tell more, Greg, so we may know if there is a lot more to golf than meets most of our ears. "Heavier things" do not excuse the Williams comment anyway.
Williams' subsequent comments also make his apology sound insincere. He was still firing shots when he spoke with Auckland radio host Murray Deaker: "My comments were by no means the worst comments made. It was a fun sort of thing, everyone laughed their heads off."
Humour is no excuse for racist comments, which aren't humorous anyway. Or is Williams damning his golfing peers in the name of a pathetic defence. Did everyone really laugh their heads off, or did jaws drop, as an un-named partygoer initially reported?
Williams has a band of supporters, judging by website comments. By linking a highly derogatory term to the colour of Woods' skin, and even introducing a racial factor, Williams was being racist, make no mistake there. He and his supporters are misguided at the very least.
And Williams' claim that he cannot be guilty because there is no racism in New Zealand owing to its multicultural nature is among the biggest load of rot I have ever heard from anyone on any subject - as is any claim that New Zealand is a racial utopia.
Commentators around the world have been unanimous in condemning Williams and demanding the sport and leading figures such as Norman take the matter more seriously.
Golf's ruling PGA Tour figures in America and Europe haven't given a stuff so far, claiming there is no place for racism yet moving on without properly investigating the incident and possible sanctions. They are, in a sense, condoning racism, and offering loopholes for those who want to talk or act in a Williams sort of way.
Woods might wonder what really lies beneath the surface in the golf world he frequents, although he probably already knows - another reason to keep his mouth shut.
The response by most golfers and administrators is distressing. They don't seem to care or understand the importance of recognising and attacking racism wherever it springs up. The "private function" defence is no defence at all. Racism is racism, whether a conversation between two people or shouted from a rooftop.
Williams' boss, Adam Scott, needed to sack him, and the PGA Tours should have tossed him out of the game or suspended him.
I've loved watching golf over the years, particularly during the height of Tiger Woods' career. I don't want to give up on golf but won't be able to watch the sport with anything like the same affection again, if at all.
TAKE A BOW, SAMA gong to the young Welsh rugby captain Sam Warburton for conceding he deserved to be sent off for a tip tackle in the Rugby World Cup semifinal against France. Such honesty is very rare in any sport.
After viewing the tape, Warburton said his tackle on wing Vincent Clerk was worse than he had believed at the time. Most coaches and players replay matches with a closed mind when it comes to those sorts of decisions, but not Warburton. He has, in effect, exonerated Irish referee Alain Rolland, who copped it for "ruining" the semifinal.
Rolland ruled by the book, and made an important stand for player safety. Those who contested the red card included Welsh coach Warren Gatland, so the 22-year-old Warburton has shown plenty of resolve.