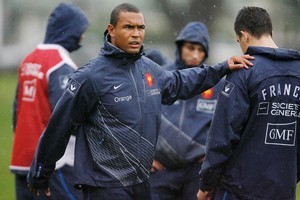 Wales did the Rugby World Cup tournament a favour, although not the All Black's chances.
Their semifinal stuff-up has made the All Blacks' job just that little bit harder - New Zealand's nemesis is still in the hunt.
Predictable Wales would have been cannon fodder against a New Zealand team with so many weapons, especially without the injured Adam Jones and suspended Sam Warburton. For all of France's problems they can still play in a mesmerising way despite coach Marc Lievremont's new philosophies which are apparently aimed at preventing players from resting on last-game laurels - not that they have any of those to worry about right now.
I gave up writing off the French after a certain game in Cardiff in 2007. One way or another, the French rose to that occasion, and could do so again.
France have history, serious history. In the absence of form, we can highlight that they are enigmatic. The New Zealand/France World Cup rivalry is a story in itself, involving two famous surprises. The French produced the most brilliant burst in World Cup history in 1999 to overturn a deficit and they also have a relatively good record in this country.
France showed just enough in the quarter-final against England for us to know that, somewhere in that confusing camp, there is hope - even if on tournament form their chances are fairly rated between zero and extremely minimal. William Servat and Imanol Harinordoquy are not bad starting places when you are putting together a test pack. They are some sort of chance.
If the All Black forwards are confronted - which Australia was unable to do - a backline dotted with inexperience could be exposed. Aaron Cruden, Israel Dagg and Richard Kahui made small errors in the semifinal that would have been more serious in a closer match.
The sheer aggression and power of the All Black forwards, and their scrum dominance, stood out against Australia. David Pocock's turnover and delaying skills were almost obliterated by a black wave. Quade Cooper is copping it in the neck, and as opening sporting lines go, his failed kickoff ranks with English cricketer Steve Harmison's famous Ashes delivery to second slip five years ago.
But when you look over the game again, Cooper wasn't the central problem ... far from it. Australia were dealt to up front, and Cooper actually pulled off two very brave receptions, getting the ball back to his side on both occasions.
His opposite, Cruden, is winning praise and New Zealand has found the player to succeed Dan Carter, but Cruden is not the finished test article, and he was far from masterful against Australia.
The All Blacks negated any problems around their new first five-eighths by limiting his role. Wayne Smith, and presumably Graham Henry, pulled a master stroke with Cruden, relieving him of attention by spreading the load. If the French try to hunt down Cruden, they will be left chasing ghosts.
Cruden was a conduit, passing the ball on most of the time without threatening the defensive line. In the early stages, it looked as though the idea was to get Cruden drifting towards the centres where he might find more room to cut his capers.
Nonu, Dagg, Kahui and Jane came into the first receiver role. Dagg was used to put up bombs, and Kahui also put in an excellent kick. The All Blacks are reasonably multi-skilled - whereas Cruden's cut-out pass went into touch, Kieran Read didn't miss a few minutes later. But the French will relish not having Carter to deal with, and may benefit from the All Blacks' wobbly goalkicking.
Relying on the French form is a trap, so analysing their temperament is more fun. The general drift, talking to European journalists - both sports and general - is that they are most dangerous when their egos are dented. Talking up the All Blacks could stir the French if the translation gets through.
Lievremont is a riddle. Our understanding of him may be hampered by translations, but he appears to tear his players to shreds and, in the manner of a wounded parent, reveal his undying love for the same blokes almost in the same sentence. A French journalist recalled receiving an accusatory text from Lievremont which was quickly followed by an apology.
As to whether this is a deliberate policy, or a reflection of Lievremont's personality, who knows for sure, though it's probably the latter. Longtime team manager Jo Maso says simply that Lievremont is unusually honest for a coach and has an offbeat humour. This has failed so far as a coaching technique in this World Cup, and by some margin. Normal rules have not traditionally applied to French rugby though and the inkling remains that, despite Lievremont's new methods, enough of the old French ways remain to turn this final into a genuine battle.
The quarter-final against England showed what France might be capable of, yet even then they faded against a limited opponent. The best summary might be this: it's difficult to write this French team up, but history warns us not to write them off either.