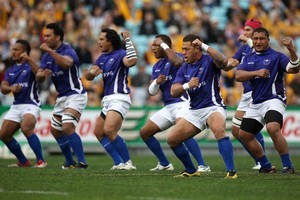 The day is fast approaching when one of the small Pacific Island nations will, with any luck, genuinely challenge for the Rugby World Cup and that day can't come quick enough.
Somewhere along the line, a so-called minnow is fully capable of going beyond the cameo stage, especially if world rugby stops treating them like also-rans.
Samoa's brilliant win over Australia was a fantastic shot in the arm for rugby, and not the least because it exposed the major nations for what they are - vastly overrated.
Okay, so Australia didn't quite have the top team out, but Samoa - who face hurdles far beyond anything the Wallabies could envisage - were fully capable of beating whatever lineup Robbie Deans selected.
World rugby loves to use Pacific Island charms while also keeping them down. The obstacles Samoa have faced over the years, in terms of player availability, test match status and professional opportunities, more than wipe out the handicap Australia imposed on themselves by starting without a handful of their best players.
Magnificent Samoa revealed that a rugby emperor was decidedly short of a full wardrobe. And Australia are not the only ones. Top rugby, worldwide, is a most unimpressive beast, often dressed up by commentators who excitedly pick over the bones while failing to mention the corpse.
The Super 15 final was tense and dramatic, but didn't involve much rugby of note. The best of European rugby is routinely very ordinary. A lot of World Cup rugby is awful.
The most heartening aspect of Samoa's win was the pulsating way they played - rattling the Australians in their traditional tackling manner and surging like the French at their attacking best. The Wallabies, all pampered and feted, didn't even fight back.
So was the Samoan victory such a shock? Not really, except that in the way international rugby is structured, we tend to forget between World Cups how good the island nations can be. These small countries almost always provide the most thrilling moments in the world tournaments, which invariably descend in quality once the alleged super powers take over in the final stages.
Samoa's squad has a good spread of professionals fully capable of rising to the occasion. Players such as Seilala Mapusua are well-respected in Europe, and others like captain Mahonri Schwalger are Super 15 hardened. Samoa's Crusaders halfback Kahn Fotuali'i should have been an All Black.
The judgment on players in this country is controlled by a few who don't always get this often subjective business right. Just because a player doesn't get the five-star treatment here doesn't mean he can't play. Non-All Black eligible players are also denied equal employment chances in the Super 15 as the NZRU tries to protect the All Blacks with their limited resources and thinking.
Samoa's famous World Cup moments against Wales are legendary, but they also gave tournament winners and favourites England a scare in 2003. World champions South Africa were stretched by Fiji and Tonga in 2007. If the deck wasn't so stacked against a team like Samoa, they would do much more than frighten the heavyweights.
Rugby honchos, and we in the media, might like to forget the smaller nations but opponents don't. Legendary Springbok captain John Smit described the first 20 minutes of the 2007 World Cup match against Samoa as "the most physical of my test career". He credited the win over Tonga to "the bounce of the ball". And his biography brilliantly describes the "perilous ... grave situation" the Springboks had to extricate themselves from against Fiji.
If Samoa and their Pacific Island cohorts compete in the set pieces and goal kick well, they are capable of winning the World Cup. The standard of world rugby is nowhere near as flash as the top dogs would have you believe.
The set piece is a problem area on past performances, but it would take only a few key players to emerge (and/or shun the All Blacks) to see a vast improvement in those areas. The island teams also seem overly intimidated by the All Blacks' reputation, something they need to sort out.
There is another factor which Samoa, Tonga, Fiji and co might work on - the referees, who are influenced by reputations. A pre-tournament PR campaign is in order. Beyond that, you have to ask the question: do the world rugby powers really want to help the small Pacific nations, or do they only want to help them so far?
* * *
A true story ... A friend was driving his son around town when the youngster asked if he could say a prayer. "Sure," replied dad, more than a little surprised. And what might the prayer be?
Answer: Dear God, I hope the All Blacks win the rugby World Cup 2011 ... at any cost.
Including the tournament date is a nice touch from a 6-year-old, even though he forgot to mention the sponsors. As for "at any cost" - no one dared ask what this might mean. Many will feel he has the desperation levels right, though.
* * *
Yawn. Yawn. IRB chief Mike Miller has warned New Zealand businesses trying to make a killing during the World Cup to watch out. Basically, Mike, this is none of your damn business. We live in a free enterprise system, the same one which allows the IRB to charge whatever it likes for hosting rights. Miller's claim that high prices will put off future tourists is nonsense. Tourists don't look at historical prices when planning holidays.
They check what is current. If you were planning a trip to Sydney this year, you wouldn't be influenced by anything that happened during the Olympics in 2000. Miller says we should look at the big picture. The really big picture is that tourism may be a dying industry because of the environmental impact, that a country like New Zealand should at least consider preparing itself for the day when it has to live without major tourism.
If Miller must travel the globe issuing warnings, he should turn his pea shooter on the outrageously greedy Wall St scumbags and their mates in high places who have caused so much damage and heartache. My advice to small businesses: make hay while the sun shines, troops. And if you see Mike Miller heading your way, double it. Just for laughs.