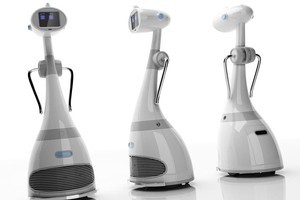 I, Robot showed humans with personal robots in a fictional 2035. But this personal robot named Luna is visually less humanoid, and more reminiscent of those which we saw in the film Wall-E, set hundreds of years from today. Luna has been developed by RoboDynamics and will begin shipping later in the year. The chief executive of RoboDynamics believes Luna is the start of a developing market for affordable, user-friendly personal robots.
Engineers in the field of robotics seem to invest a lot of effort into creating humanoid robots, but with the potential of robotic technology in search and rescue, it seems that mimicking other members of the animal kingdom will provide better results. Engineers at Tufts University are creating soft robots that emulate the escape roll behaviour exhibited by caterpillars and salamanders.
Here is an impressive Kiwi contribution to the robotics game; researchers at the University of Canterbury have developed a Bernoulli gripper, which is a non-contact vacuum grip that functions based on the Bernoulli principle. Essentially, they have constructed a robot which can climb vertical surfaces without actually touching them. This technology could be employed during industrial inspections.