A super little car comes with big-noting performance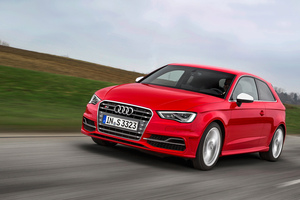 Not so long ago, 0-100km/h acceleration under five seconds was supercar territory: very serious performance that could only be experienced by a very fortunate few. Example: in 2003, a Ferrari 360 Modena could crack the benchmark sprint in 4.6 seconds.
As far as I'm aware, the laws of physics haven't changed in the past 10 years; that kind of acceleration feels no less remarkable on your innards now than it did back then. But you no longer need a supercar to have that sub-five-second experience. More like a super little car.
These days, 0-100km/h in four-point-something seconds is the benchmark for a decent hot hatch.
A quick flick through the Big Book of Supercar Facts was necessary when I drove the new Audi S3 in Munich last week, because the first thing that struck me was how beltingly (technical term) fast it felt. I now know the reason for that: because it is. The S3 with six-speed S tronic transmission can hit 100km/h in 4.8 seconds.
What's all the more remarkable is that it's achieved with a humble 2-litre turbocharged engine, albeit one with not-so-humble outputs: 221kW/380Nm. The linear power delivery and quick-shifting dual-clutch gearbox (the manual version can only manage 5.2sec) are key to the headline performance figures. So too is the S3's low-carb lifestyle, for this new model weighs 60kg less than the previous version. All of the above also results in impressive fuel economy of 6.9 litres per 100km.
The S3 has never wanted for straight-line acceleration or build quality, but past versions have been a bit anodyne in dynamic terms. Audi is aware of the issue and has been working hard on making its all of its S/RS models more engaging as well as ruthlessly efficient. One Audi marketing man at the launch function spoke of "emotionalising" the performance range, which was a delightful piece of German English and right on the money. If not in the dictionary.
The S3's power delivery is strong right through the rev range and the car surges forward with an incredible sense of urgency at virtually any speed.
The S3's steering is still its weak point. It has a "progressive steering" system that alters the gear ratio according to driving conditions. It's effective in sharpening up the tiller the harder you turn, but it still ultimately lacks substance.
Not so the chassis, which benefits from Volkswagen Group's new MQB platform (as used for the latest Golf).
Weight loss has resulted in a more nimble-feeling machine.
The four-wheel drive system ensures that the S3's considerable power is put to best use.
Worth noting at this point that quattro is a four-wheel drive brand rather than a specific technology these days. Larger Audis have a mechanical all-wheel drive quattro system and in many cases a bias towards the rear for sporty models, but the S3 employs an electronic/hydraulic setup that puts most of the power to the front wheels in normal driving.
Although the company insists that S3 is still "full-time" four-wheel drive because it sends a minimum of 10 per cent torque to the rear at all times, the S3 has a front-drive feel in day-to-day driving. Some may see that as a plus.
The S3 is very refined and the cabin is exquisitely well-made and comfortable, so it's a machine that plays a dual city-car/hyper-hatch role very well indeed.
I know what you're thinking: we've done this the wrong way around, going wild in the S3 before we've driven the new A3 range. Probably a good point, but can't be helped. The A3's time will come.
It's due for local release in the next two months, whereas the S3 won't reach New Zealand until later this year, when production of the five-door Sportback version kicks off (our test car was a three-door).
The S3 will line up against BMW's just-launched M135i and the forthcoming Mercedes-Benz A 45 AMG. If you're in the market for a sub-five-second premium hatchback this year, you've got a lot of thinking to do.
Now the S3 is so outrageously quick, is there really any need for another RS 3? Given that Audi seems determined to develop an RS version of every model it makes, and has a stated aim of producing these flagship variants earlier in a model's life rather than at the end (as was the case with the previous RS 3), it's clear that there is a big difference between need and want.
So when will a new RS 3 appear? Audi cannot say. What kind of powerplant will it have - a five like the old model or an uprated four from the S3? Audi cannot say.
Here's something I can tell you about the next RS 3: you won't believe how fast it is.