Jacqui Madelin heads to the south of France to hook up with a big, sexy Italian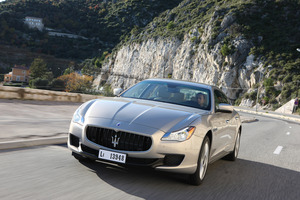 There's nothing like the adrenaline burst you get when flooring the go-pedal of several hundred thousand dollars worth of luxury muscle car - only to have your back threaten to kiss the edge of a gut-yawning drop.
Or the frustration when you realise the road is ice-rink-slippery from mist and light rain after weeks of sun.
And it was that sunny weather Maserati was after when it chose Nice to launch the latest Quattroporte.
For it's vital this car makes a good impression. It's the start of five incoming models, says Maserati chief executive Harald Wester at the launch on the South of France coast, all aimed at an eightfold increase in annual sales, from last year's 6200 to 50,000 units by 2015.
Only three have been identified so far - this sixth-generation Quattroporte; the Ghibli - a smaller, BMW 5 Series competitor; and the Levante SUV in 2014.
This is virtually an all-new car, with a changed platform and look, an all-wheel-drive option for the V6 in some markets, and freshly designed, more powerful engines from Ferrari.
And it's bigger. Much bigger. At 5262mm long, 1948mm wide and 1481mm high with a 3171mm wheelbase, it's 210mm longer, 53mm wider and 43mm higher than before with that wheelbase stretched by 107mm. The increased size pitches it against Mercedes' commodious S-class.
Our launch cars were fitted with the twin turbo direct injection 3.8-litre V8 with 390kW at 6800rpm and 650Nm from 2000 to 4000rpm, overboosted to 710Nm from 2250 to 3500rpm. That's 59kW more power and 200Nm more torque, with the peak arriving lower in the rev range. No wonder this is the fastest-accelerating four-door car in Maserati history.
Which left room for a smaller-engined option, a 3-litre V6 that delivers 301kW at 5500rpm and 550Nm from 1500 to 5000rpm and shares many of the V8's components.
Nearly 100kg has been trimmed from the outgoing Quattroporte despite its extra size, thanks to extended use of aluminium, though it still weighs nearly two tonnes. That heft is controlled by an all-new suspension, with independent double wishbone front and five-link rear mated to the Skyhook variable dampers that monitor wheel movement and roll to select optimum damping, separately for each wheel.
Our short launch drive climbed above Nice in light rain, ascending switchbacks blighted by slow traffic on to the crests of the hills where we headed west. I examined the new cabin layout while my co-driver cursed the crowded roads, greasy tarmac and the lack of a decent open stretch. The car may look more bulky but the payoff is a roomy cabin with 105mm more rear legroom and 80 litres of extra boot space - now at 530 litres - as well as capacious front pews.
Then it was my turn, and I slid behind the leather-wrapped wheel, set the mirrors to suit and quickly ran my fingers over the buttons to adjust suspension, set sport, and switch off the stability control off - a short array all easily to hand, with fripperies like heated seats, air and satnav controlled via a large and easy-to-read touch screen.
The outgoing car's quirky ergonomics are very much a thing of the past. This design works well while retaining a special Maserati character, the delightfully opulent cabin cleverly embellished with subtle design highlights like those air vent controls, a solid horizontal chrome bar that looks to be a visual feature but is revealed as functional.
Front seats or back, you get the ultimate in sophisticated technology.
No wonder this is the fastest-accelerating four-door car in Maserati history.
Nice. Very.
Within metres I'd selected sport, not because it's appropriate for these conditions but because it opens baffles in the muffler to impart a wholly feral back-note to the usually refined V8 burble.
It's best appreciated when you lift off after a burst of acceleration, the open-throated cough on the over-run a potent call to arms.
But yet again, there was little chance to heed it.
The swervy curves of a road clinging to the cliff, all-too-skinny Armco the only thing between us and the drop, suggested more than it could deliver - just enough to note the stability imparted by the longer wheelbase, and the car's size, before traffic again slowed us.
By lunch I was audibly frustrated by the test route's limitations, enough for the tolerant Maserati comms man to quietly introduce me to Alex Fiorio, a world rally ace in the 1980s and familiar with these roads.
In the time allowed even he couldn't find the sorts of roads a Kiwi takes for granted, but talking me through his impressions of the car, he navigated to a pair of ludicrously tight hairpins that led to a sinuous 3km climb ending in a roundabout.
It was enough to floor it, feel the big car shimmy briefly as the rear tyres try to bite wet tarmac under the influence of gobs of torque, before the accurate steering and natural 50-50 weight balance helped bring it back into line; enough to feel how confident the big thoroughbred is and how good the Brembo brakes, even in these conditions.
This ZF eight-speed gearbox-engine mating is inspired, responding with the alacrity you expect from an Italian, the engine seemingly delivering both the low-revs pull of a V8 - over 90 per cent of the torque is available under 2000rpm - and the buzz of a high-revving turbo, putting power to the road with a smooth unstoppability that underlines this car's 4.7-second zero to 100 time and 307km/h top speed, not bad at all for a 1900kg four-door sedan. No wonder though we came closer to the car's 17.6l/100km urban thirst than its 11.9l/100km claim.
Fiorio has driven the car extensively. What does he like best about it? "Izz good for skidz."
Ah yes, I can imagine it would be a drift king in Fiorio's hands ...
And at last it was time for a "short cut" through an "izz narrow" alley with mirrors brushing walls as we descended sharply to a kilometre of muddy back road, sufficiently dirty to have the Maserati minders back at base race from the hotel squawking, "What have you done?"
And it was over, at least until the car arrives Downunder next year when pricing "to match the opposition" will be announced.