The sheer size of the Rolls Royce Phantom will have other awe-struck vehicles giving way.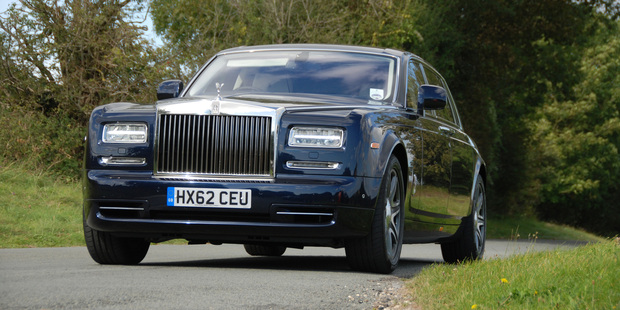 Blip the throttle and somewhere a long way forward a 6.75-litre V12 engine flexes its muscles.
But I can't hear it; I can't feel it; this long-wheelbase Rolls-Royce Phantom seems more hovercraft than earthbound as I swing the massive wheel and point it down the long tunnel of trees ahead, hoping like hell there's nothing coming as this car is well over 6m long, almost 2m wide and weighs close to three tons. There is no space for other traffic.
Yet it's a remarkably effortless drive, the rise of those patrician wings, suggesting the car's edges, while a gauge up front gently informs me we're using just 10 per cent of the 720Nm of torque on tap - which is barely idling, as 75 per cent of it's available from 1000rpm. The hushed tones of my passenger are crystal clear given the whisper-quiet ride.
This long wheelbase Phantom Series II will do zero to 100 in 6.1 seconds, thanks to 338kW and an eight-speed ZF auto. It drinks at 14.9l/100km, and surrounds us in hand-polished wood, sheepskin carpets so deep your shoes disappear and the sort of over-engineered gadgets that would make a tech-head weep but will be overlooked by the super-rich who buy this car.
After all, starting price is $775,000 - but 90 per cent of buyers option it up from there.
Although the LWB feels more like an aircraft carrier to pilot than a car, the Ghost is a mightier proposition. Still very much a Roller in terms of image, finish and materials, it is much smaller - at 5.4m long and 2.4 tons - and quicker, the 6.6-litre V12 engine with its 420kW and 780Nm propelling its occupants in effortless silence from zero to 100 in 4.9 seconds, 1.2 less than the bigger Phantom. Its slightly smaller wheel and tighter steering make this the Rolls to have if you drive yourself; certainly it's a better fit for the tight back roads around Rolls-Royce's Goodwood factory in England. Yet it's also a car in which to be driven: the plant's "taxi" fleet is comprised of these $565,000 cars.
Rolls-Royce boss Torsten Muller-Otvos - yes, he is German - says to work here he must understand "Britishness", which is part of the appeal and means "a Rolls-Royce will never be built in other markets".
Demand is growing but he isn't planning a smaller car. "We are not chasing volume, it is wrong for such a brand. Our customers want a car that is so exclusive. Instead of numbers, BMW expects profit, hence increasing emphasis on the bespoke department that can make each Rolls as unique as your own fingerprint."
Best cancel my order for an orange Phantom with yellow leather, then - it's been done. And forget the Desert Gold hue that uses 0.19g of gold powder per litre of paint. I'll have baby blue, with gold wheels and a 24-carat gold "Spirit" up front: at $105,000 it's the perfect finishing touch.