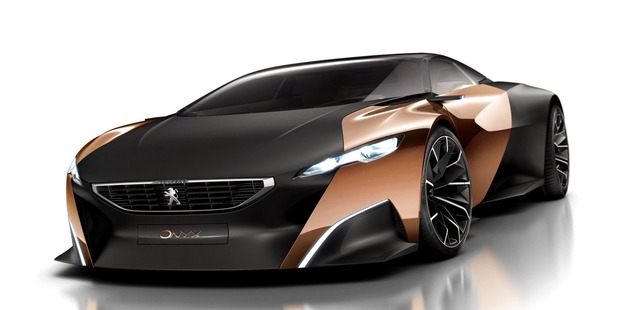 The Onyx' exterior panels are mirror-polished copper and black carbon-fibre. Photo / Supplied
Peugeot has revealed that the Onyx supercar concept, to be debuted at the end of this month, will pack a mid-mounted 3.7-litre V8 diesel engine sending 447kW to the rear wheels, while an electric motor sends a further 60kW to the front axle to provide all-wheel drive.
Weighing just 1100kg, the carbon-fibre and copper-panelled Onyx has the ingredients to deliver exceptional performance and handling while returning low fuel consumption.
Being diesel, the Onyx is potentially more efficient than Porsche's hybrid 918 supercar, which consumes about 3.0 litres of fuel per 100km from its hybrid petrol-electric powertrain.
The Porsche has a petrol V8 and two electric motors that produce a combined 574kW and blast the 918 from zero to 100km/h in less than three seconds.
The exterior panels of the Onyx are made from a combination of mirror-polished copper and carbon-fibre painted matte black.
The roof and windows are fashioned from lightweight transparent thermoplastic called polymethyl methacrylate.
Peugeot has referenced the RCZ coupe's double-bubble roof design and one-piece aluminium roof arches with the Onyx, which rides on 20-inch alloy wheels, behind which are carbon disc brakes and double-wishbone suspension with race-style inboard springs and dampers.
For all the high-tech exterior construction materials, the Onyx uses recycled newspaper in the dashboard construction and wool-based felt interior trim.
The Onyx will take pride of place on Peugeot's Paris motor show stand on September 27, flanked by a high-performance three-wheeled hybrid Onyx Scooter concept and a carbon-fibre time trial bicycle, the Onyx Concept Bike.
Peugeot will also be using its home base of the Paris motor show to reveal its 208 GTi, which is lower and wider than the standard 208 three-door on which it is based.
Power comes from the same PSA 1.6-litre turbocharged petrol engine that is used in the Peugeot RCZ, Citroen DS3 and Mini Cooper S, developing a potent 147kW and 275Nm of torque matched exclusively to a close-ratio six-speed manual gearbox.
The self-shifting gearbox bucks the trend in the light-sized hot hatch market, with a host of key rivals such as the Volkswagen Polo GTI, Skoda Fabia RS and the forthcoming (yet-to-be-revealed) Renault Sport Clio all limited to dual-clutch automatic transmissions.
Combined with a light 1160kg weight, this engine is said to punt the pint-sized Pug from zero to 100km/h in less than 7.0 seconds, putting it squarely on par with the Polo GTI (6.9s).
Peugeot also claims the 208 GTi will make an "appealing sound", thanks to a reworked exhaust system.
The car-maker says it has tapped into its motorsport heritage in Le Mans and rally with the new GTi, with the aim of returning the car to the light-and-playful ethos of the iconic 205 GTi of the 1980s.
Peugeot is also expected to debut a 208-based crossover SUV at Paris.
-Go Auto