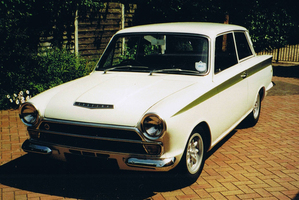 A Northland car enthusiast was last night counting the hours until he is reunited with his beloved 1966 Lotus Cortina, which was recovered by police yesterday in Whangarei.
Phil Sharp, of Kerikeri, was emotional yesterday as he thanked everyone who had helped look for and spread the word about his stolen car.
Details were still sketchy yesterday as to how it had been recovered, but it is understood the classic Cortina was found, undamaged, in a Whangarei garage around 2pm yesterday. At least one person has been arrested.
Police and a private investigator had been looking for the car since it was stolen in broad daylight from the Bay of Islands Golf Club in Kerikeri on June 27.
Mr Sharp bought the car as a wreck in the UK in 1990, spent 10 years restoring it and brought it back to New Zealand in 2003. He believed it was the only one in Northland and was worth about $70,000.
When it was stolen he launched a nationwide campaign to get it back, with the word spread via newspapers, TV stations and radio.
Mr Sharp's first inkling that police were closing in on his car came at 7am yesterday. He had yet to see it when he spoke to the Advocate late yesterday but had been assured it was still going and in good nick.
"I just hope the engine hasn't been damaged, but even if it has ... I know every nut and bolt. I can fix it again."
Mr Sharp said it was hard to describe his feelings, but he wanted to thank everyone involved in searching for and recovering his Cortina.
He had been involved in motor racing all his life - including many years with the McLaren Formula One team - and when he first started racing as a teenager, a Mini Cooper or a Lotus Cortina was the car to have. "It was always my ambition to have one."
After a forensic examination the car was put on a truck and taken back to Kerikeri, where it was expected last night.
For more articles from this region, go to Northern Advocate