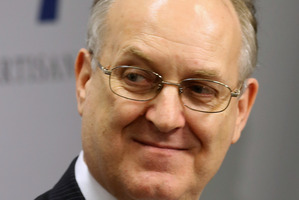 Viewed from the vantage point of Standard & Poor's global chief economist the world economy does not seem too inhospitable a place right now, but not without risks either.
Paul Sheard expects recovery in the United States to gather pace with growth reaching around 3 per cent next year, a step up from the 2.1 per cent it has averaged over the past five years.
"We would expect that as more and more people get back to work, the housing market continues to recover and monetary policy remains very accommodative that you get some positive dynamic developing in the economy and it feeds on itself," he told the Herald yesterday.
The major risk to the US recovery is that the aftermath of the financial crisis lingers even longer and the economy's "animal spirits" fail to revive.
Sheard expects the Federal Reserve to start raising interest rates around June next year. But that could come forward if the labour market starts to show signs of tightening - and if the Fed becomes more confident it understands how much slack there is in it.
The eurozone he describes as a "half-built house" in economic and political terms.
"It is not going to fall down but it is not the most comfortable place to be living at the moment."
Monetary union without fiscal union, and a lack of consensus about the nature of the challenge, has left the European Central Bank running monetary policy not nearly supportive enough, and governments with fiscal policy biased towards austerity.
"Layer that on top of a very bad recession and it is a recipe for economic weakness, which is exactly what we have got."
Meanwhile, S&P is forecasting Chinese growth of around 7.2 per cent this year and next year, which would be a modest slowing from the 7.6 per cent it has averaged over the past two and a half years.
The path of reform and rebalancing the Chinese leadership has embarked on entails risks to the economy as credit problems from the shadow banking system come to the surface.
It is a tall order for policymakers to change the incentive structure of the Chinese economy, embrace more market forces and facilitate the next stage of China's economic development, while at the same time maintaining the kind of grip they have had on the economy so that everyone can be confident that if anything goes wrong they will be able to stabilise the situation, Sheard says.
"The danger is that they test the water, and proceed in piecemeal fashion with the reform process, but when that process starts to trigger problems in the economy that they will pull back. It would take a lot of political courage to push forward if the economy was starting to wobble."